28 Night North Cape Kiel Canal & Baltic Explorer (Amsterdam Roundtrip)
28 Night North Cape Kiel Canal & Baltic Explorer (Amsterdam Roundtrip)
More About Prinsendam
1.78
Crew to Passenger Ratio
Explore Cabins
Prinsendam has 419 cabins and 22 cabin categories. See what each category has to offer and read cabin reviews from the community.
Inside
Avg. Size:
190 sq. ft.
Avg. Cost:
$125 per night
Oceanview
Avg. Size:
171 sq. ft.
Avg. Cost:
$173 per night
Suite
Avg. Size:
414 sq. ft.
Avg. Cost:
$326 per night
Prinsendam Features
Explore all 27 on board venues and features.
Explorer''s Lounge
A maritime mural and subdued contrasts in black and rose -- these are the essential ingredients for the understated elegance of the Explorer''s Lounge. This meeting place for friends old and new offers intimate seating for small gatherings.
Art Gallery
Step into the Art Gallery, lovingly tended by a knowledgeable curator, and discover pieces that flirt with your imagination.
Casino
Spin the wheel, roll the dice, and make a date with Lady Luck in the lively casino.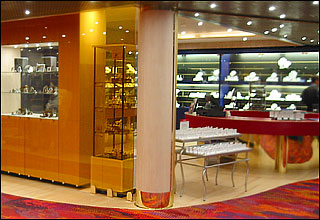 Boutiques
Passengers can browse the onboard boutiques for souvenirs, luxury goods, clothing, and accessories.