28 Night Japan Explorer & Russia Collector (Yokohama Roundtrip)
28 Night Japan Explorer & Russia Collector (Yokohama Roundtrip)
More About Westerdam
2.35
Crew to Passenger Ratio
Explore Cabins
Westerdam has 962 cabins and 29 cabin categories. See what each category has to offer and read cabin reviews from the community.
Inside
Avg. Size:
199 sq. ft.
Avg. Cost:
$109 per night
Oceanview
Avg. Size:
190 sq. ft.
Avg. Cost:
$128 per night
Balcony
Avg. Size:
269 sq. ft.
Avg. Cost:
$184 per night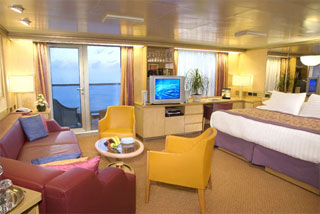 Suite
Avg. Size:
534 sq. ft.
Avg. Cost:
$258 per night
Westerdam Features
Explore all 42 on board venues and features.
Aft Pool
This secluded pool is another place for guests to enjoy their moments in the sun.
Basketball Court
Don''t let that cross-over get rusty. Hit the top deck for a little pick up among ship mates.
Art Gallery
Step into the Art Gallery, lovingly tended by a knowledgeable curator, and discover pieces that flirt with your imagination.
Boutiques
Passengers can browse the onboard boutiques for souvenirs, luxury goods, clothing, and accessories.