21 Night Ultimate Alaska & Pacific Northwest Adventurer (San Francisco Roundtrip)
21 Night Ultimate Alaska & Pacific Northwest Adventurer (San Francisco Roundtrip)
More About Maasdam
2.17
Crew to Passenger Ratio
Explore Cabins
Maasdam has 629 cabins and 35 cabin categories. See what each category has to offer and read cabin reviews from the community.
Inside
Avg. Size:
226 sq. ft.
Avg. Cost:
$105 per night
Oceanview
Avg. Size:
255 sq. ft.
Avg. Cost:
$114 per night
Balcony
Avg. Cost:
$168 per night
Suite
Avg. Size:
458 sq. ft.
Avg. Cost:
$231 per night
Maasdam Features
Explore all 35 on board venues and features.
Aft Pool
This secluded pool is another place for guests to enjoy their moments in the sun.
Beauty Salon
The menu at the Beauty Salon features manicures, pedicures, hair styling, blow drying, and other pampering pleasures.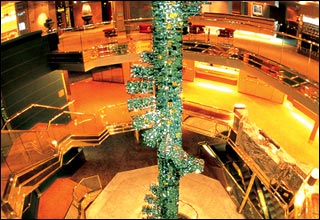 Atrium
The lavish three-story atrium, which features a towering sculpture handcrafted from Venetian stained glass, is a popular passenger gathering spot.
Boutiques
Passengers can browse the onboard boutiques for souvenirs, luxury goods, clothing, and accessories.