11 Night Canada & New England (New York To Quebec)
11 Night Canada & New England (New York To Quebec)
More About Norwegian Dawn
2.11
Crew to Passenger Ratio
Explore Cabins
Norwegian Dawn has 1170 cabins and 36 cabin categories. See what each category has to offer and read cabin reviews from the community.
Inside
Avg. Size:
145 sq. ft.
Avg. Cost:
$135 per night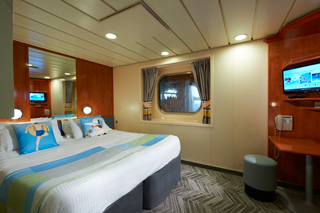 Oceanview
Avg. Size:
159 sq. ft.
Avg. Cost:
$166 per night
Balcony
Avg. Size:
247 sq. ft.
Avg. Cost:
$233 per night
Suite
Avg. Size:
900 sq. ft.
Avg. Cost:
$271 per night
Norwegian Dawn Features
Explore all 38 on board venues and features.
Aqua Main Dining Room
Enjoy five-course dining dishes in a more intimate atmosphere with views of the sea and sky.
Basketball/Volleyball Court
Shoot hoops, join a pick up game or play beach volleyball without the sand at the net enclosed, outdoor Basketball/Volleyball Court.
Bliss Lounge
Horizontal windows in the floor allow you to look down on the bridge. At night, the atmosphere is charged when the music comes up and the stage becomes a dance floor. Two adjoining rooms are available for parties.
Casino
Welcome to NCL''s Casinos at Sea. Where novices and veterans alike will enjoy Roulette, Blackjack, Craps, Let It Ride and Caribbean Stud Poker (TM). Let the good times roll.