10 Night Western Caribbean (Port Canaveral Roundtrip)
10 Night Western Caribbean (Port Canaveral Roundtrip)
More About Norwegian Breakaway
2.39
Crew to Passenger Ratio
Explore Cabins
Norwegian Breakaway has 2011 cabins and 49 cabin categories. See what each category has to offer and read cabin reviews from the community.
Inside
Avg. Size:
131 sq. ft.
Avg. Cost:
$119 per night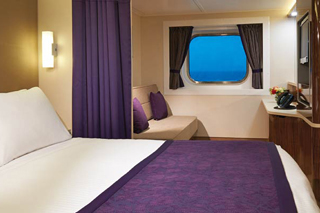 Oceanview
Avg. Size:
172 sq. ft.
Avg. Cost:
$151 per night
Balcony
Avg. Size:
186 sq. ft.
Avg. Cost:
$174 per night
Suite
Avg. Size:
355 sq. ft.
Avg. Cost:
$199 per night
Norwegian Breakaway Features
Explore all 91 on board venues and features.
Bar 21
The sounds of the slot machines and cheers of the crowd at the neighboring casino won't distract you from noticing this stunning, intimate bar. It could easily become your favorite haunt, especially late at night.
Aqua Park
Seventeen decks above the sea, wind in your hair, sun on your back, ocean views all around, and before you – a stellar selection of liquid delights: five multi-story water slides, two swimming pools, four hot tubs...more water than ever before. It's a proverbial smorgasbord of aquatic opportunities.
Bandstand
Enjoy live entertainment at the Bandstand.
Breakaway Casino
Blackjack, Craps, Roulette, Texas Hold 'Em and Poker are a few of the favorites on Deck 7. See why Norwegian has been rated the "Best Cruise Line Casino" of any cruise line for ten years running by the readers of Casino Player magazine and "Best Cruise Line Casino" by Porthole magazine.