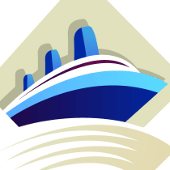 Upcoming Cruises
Past Cruises
November 2017 - 7 Night Western Caribbean (Miami Roundtrip) Cruise on Norwegian Getaway
March 2017 - 9 Night Southern Caribbean (Miami Roundtrip) Cruise on Navigator of the Seas
One of the best cruises we have taken
We chose this cruise because of itinerary, departure and return to Miami, and what we considered a very good price. Our Superior Balcony cabin was very comfortable, although the balcony itself seemed smaller than those on other ships. 
Food and service were very good. I was very pleased with the selection of dishes available in Windjammer, including special theme dinners on some nights that might tempt one away from the dining room (which was also quite good). Our dining room staff really worked hard to satisfy even unusual requests, including off-menu items. 
We bought a 2-night dining package that gave us dinner in two of the specialty restaurants on the first two nights. This was a great bargain since the per-person cost was less than dinner for one night in Chops Grille, which was one of our choices. The other was Giovanni's Table, which we tried for the first time and were very pleased with. 
The Navigator is now one of RCI's medium sized ships, but still has most of the amenities offered on the other ships: Flowrider, rock climbing, ice skating rink, Royal Promenade. Some areas of the ship seem a bit crowded compared to the larger Freedom class ships and I noticed a few minor details missing that we had enjoyed on Freedom and Liberty. On the plus side, the Navigator (and its class mates) has a "peekaboo bridge" on Deck 11, just above and behind the navigation bridge, where passengers can watch the officers running the ship through large windows, with panels showing course, speed, wind, azipod and thruster power etc.  
I was not as excited about the shows on Navigator as I had been on other cruises. We went to the first stage show in the theater with the singers and dancers, and the thrilling ice show, but never went to the other shows. 
There was one incident that most people aboard never encountered, but that caused me about 45 very uncomfortable minutes when the ship's plumbing system was shut down for maintenance one night. The bathrooms throughout the ship were inoperative for a while, but were back on line by 5:30 am. I'm sure most of the passengers were unaware of any problem. There were frequent announcements about the fragile plumbing system and warnings about what not to flush.  This is true of any cruise ship but I'd never experienced a problem before. 
We were glad that RCI now has a pier at Labadee, Haiti so we didn't have to tender ashore for the beach day. The other port calls at Curacao, Aruba and Bonaire were really fun and interesting. We took an excursion on Aruba that included a ride below the water to see the fish and a shipwreck off shore. 
We also had a casual chat with the captain one day while we sat at the Cafe Promenade. He did not identify himself by rank but I recognized him by his name tag. He was just walking around, interacting with the passengers in a pleasant and low key way. 
We found the Navigator to be overall a comfortable ship, more so than our previous cruise on a smaller ship of another company. Pitch, roll and vibration were not as noticeable, even when the seas were a bit rough. 
We'll definitely be going back to Royal Caribbean for more cruises in the future.
November 2016 - 14 Night Western / Eastern Caribbean (Ft. Lauderdale Roundtrip) Cruise on Nieuw Amsterdam
Smaller ships, plus and minus
This was our second Holland America cruise, after being on Norwegian and Royal Caribbean ships for a few years. I had wanted to come back to HAL because I remembered the excellent food, great service and beautiful decor of the Zuiderdam. In most ways this cruise lived up to my expectations. Except for one night I was very pleased with the food. We dined in the Pinnacle Restaurant for a celebration dinner and it was exceptional, from s'amuse bouche to decadent dessert. The busy Lido buffet was great for breakfast with made to order omelets and a different version of Eggs Benedict every day, also made to your order. 
The pizza at the Lido pool area and the burgers, hotdogs and fries amidships were really good, far exceeding what I had experienced on other ships. 
We made dining room table reservations immediately upon boarding the ship and enjoyed delightful table companions, which definitely enriched our experience. 
I enjoyed the shows, performed by talented singers and dancers with live backup band, very high energy and always professional. 
I did not miss things like wave pool, rock climbing or ice rink found on the big ships. I liked the cooking demonstrations especially. 
We purchased two shore excursions through
which we enjoyed very much. However, the ship personnel were not helpful when we asked simple questions on how to find the starting point for the tour. We had to walk a short distance or take a taxi to get to the location, rather than being met by a guide at the pier. 
After having sailed on larger ships, I found the smaller Nieuw Amsterdam rocked and pitched noticeably more. There was annoying vibration in the dining room which is all the way aft, even on the upper level, when the ship traveled at close to top speed. Our cabin was also at the very back of the ship on deck 8. We were given this cabin as a "guaranteed" selection; we did not choose it. I had heard that these were prized because of their privacy, which was true. However it suffered from noice and motion. Our table companions told us this was true in other parts of the ship, on lower decks, as well. We were directly below the Lido pool area, so early every morning and evening we heard the crew moving deck chairs, scraping and bumping around. 
One of my favorite things about Holland America ships is the many quiet places one can sit with a book. The library has a good selection of materials. 
I also liked the Silk Den for a before dinner drink with new friends, and the Crow's Nest day or night.  
So, another Holland America cruise? Probably, but next time I want to choose my own cabin.
November 2015 - 7 Night Eastern Caribbean (Port Canaveral Roundtrip) Cruise on Freedom of the Seas
Exceeded expectations
This was a much better experience than I had a few years ago, when cost-cutting was obvious and service suffered. This time everything was back up to the levels I was accustomed to, and above. Service was attentive, staff were cheerful and every request received quick response. Menu choices in the dining room were varied, well prepared and attractively presented. It was hard to decide whether to go to Windjammer for the many choices, or to the dining room for quiet service at breakfast and lunch. We enjoyed a sumptuous dinner at Chops, with a level of food and service above that in the dining room. My mother really enjoyed her massage in the spa, and the masseuse was very caring and attentive. Our cabin steward was efficient but unobtrusive, and available whenever we needed him. The stage show was up to the professional standards we have always enjoyed, and the ice show was dazzling and amazing. I was glad to see it is now offered on two different days, twice each day, because it is so popular. We frequented the Cafe Promenade for a cup of coffee or tea, or a cold drink, and a comfortable place to sit and people watch in the Royal Promenade. I also enjoyed the R Bar whose delightfully personable bartenders bantered with the patrons and each other as they expertly mixed elaborate creations. We went ashore for the beach day at Coco Cay, finding lounge chairs in the shade, enjoyed one of the day's beverages and a lunch with many selections to choose from. 
We had a chance to avail ourselves of the ship's medical facility when an elderly member of our party had a minor mishap. The staff were attentive, professional and reassuring. The center itself was well equipped and not cramped but comfortable enough to serve a number of people at one time.
I left the ship with good memories and ready to go again.
Cruise Tips
Navigator of the Seas
Don't miss the peekaboo bridge on Deck 11 forward, accessible from the front of the Solarium. You get to watch the officers on the bridge and see the ship's course, speed and other information. A great place to be when leaving a port.
Nieuw Amsterdam
We made table reservations as soon as we came aboard, table of six, and met some very interesting people. Dining room got noisy, sometimes hard to carry on a conversation. Pinnacle Restaurant was a wonderful experience for a special occasion. Lido breakfast made to order items served fast and good
Freedom of the Seas
We were traveling with two older ladies, and found good "resting places" in the library and computer area, the Cafe Promenade, and the outside area on deck 4 where there are both smoking and nonsmoking areas.