March 2014 - Celebrity Equinox to Caribbean - Western
Great way to spend my birthday with my family!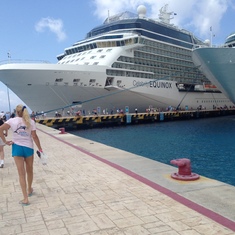 Eight of us enjoyed a great cruise to good destinations. The ship was excellent. The service was excellent and the food was very good. We were in Aqua class. We enjoyed the healthy food choices in the Blu dining room. On my birthday we ate in Murano. The food and service in Murano was 5 star! The two things that we were not extremely happy with is that it does have an older crowd and there are not as many physical activities as some of the other cruise ships. The other was that we felt that the nightly entertainment and shows were very mediocre. All in all we had a great time with fantasic weather. I would recommend this cruise.