March 2016 - 15 Night Panama Canal Westbound (Miami To San Diego) Cruise on Celebrity Infinity
Special diet and traveling with teens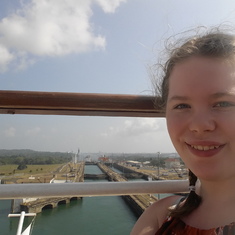 We traveled with our to youngest children, ages 13 and 17.  The teen program was great.  They were sent on scavenger hunts, played board games, basketball and other games.  The Xbox time was limited, which was fine.  There was a daily program of activities that was delivered to our room each night.  The kids could attend all day or for certain activities. They could come and go as they liked.  They appreciated the freedom. 
I have a special diet.  I notified my travel agent and she notified the ship.  I was very well taken care of.  We had the same waiter and matra'd every night.  I was told to pick anything out in the menu I wanted, and the chef would make it for me.  In the buffet restaurant and on the menu in the main dining room, items were clearly marked to tell us if they were vegan, dairy free, gluten-free and no sugar added. I did not get sick once on the boat.  Kudos to Maynor (from Honduras) and Oviedo  (from Jamaica)!
A note about the class distinction between middle class and upper class passengers.  I did not see much favoritism going on, but my husband noticed.  The food in the buffet restaurant was the same as the main dining.  The main dining was strict with the dress codes and etiquette. My son had some trouble with this.  The buffet (Oceanview cafe) was much more relaxed.  I took a craft class in one of the specialty restaurants, which was free of charge for the class.  It was extremely hot in there and no air flow.  In our opinion the special restaurants were not worth the extra money.  There were people on the boat trying to get us to go to them, and they kept lowering the price.  I still only seen one passenger sign up for it.  
The tee shirts sold out in the xlarge sizes, so buy them right away.  All the on board shops put things on clearance half way thru the cruise.  Overall it was a fantastic experience with this cruise!