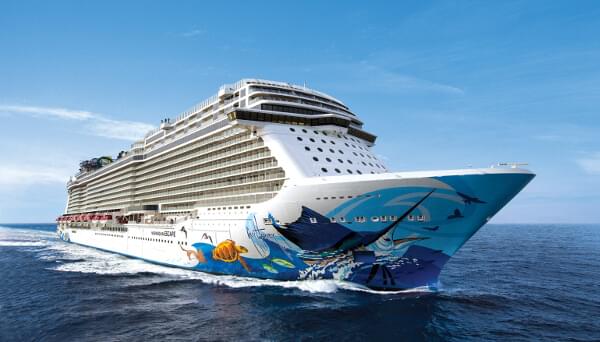 September 2016 - 7 Night Eastern Caribbean (Miami Roundtrip) Cruise on Norwegian Escape
What a Great Ship, this is our third time this year
What a beautiful ship the Escape is, just like the sister ship, the Getaway.  #1 Food quality is excellent!  I can compare this to all other lines I have traveled on like RCI,Princess, Holland and Carnival.   Getting through a main dinning room should not have to cost you two plus hours of your time as the other lines and with poor service & food quality .  I have not received a meal yet that I was unhappy with in any of the restaurants or the buffet, great food!   I am really not a fan of the buffet though, not cause of the food, but more of the frantic atmosphere of the people at times, not all the time, but during a rush it's a mess.   I can not stand to see wasted food either.  
#2. Super friendly crew, I have not bumped into a crew member on this ship that did not have a smile.  I have engaged many of the members in conversation and found them to be quite genuine, friendly and warm.  Not so on other lines, some look so burned out maybe they should release them from contract and send them home.
#3. Dancing, If you like to dance there is a venue just waiting you.  You like ballroom, POP, Latin/Rhythm, freestyle.  You pick from live to canned it's all there.  Nice wood floor in the Manhattan Room, a dine and dance venue.  The Sky line Lounge has live and canned music but it has a tile floor (so don't wear your dance shoes there, bring leather soles shoes), The Atrium has live or canned music  that has a good wood floor as well.  FreeStyle music,  every night in H2O,  top of the ship, under the stars, where the party goes until you drop.
The Pool deck is tight on sea days, one Pool for Adults is nuts, that was a fail.   There is a kids area which is great for the kids.   The main pool opens to all after 5PM. Shows are great, comedy is good.  Spa up grade for $199 PP is not bad compared to the price of other lines that charge $350 for the same.  Look it up on youtube there are videos.  It suppose to be a quite zone but some Americans don't read and follow the rules so well.  
Public areas were always clean, every now and then I saw a stray glass, but I blame the cruisers for their careless ways not NCL.   
For the price this is a excellent vacation.   It seems that NCL is moving to capture the clients of other lines with their excellent service and friendly staff.  They did with us, this our fifth NCL cruise this year alone.  I think we found a new home.