July 2014 - Disney Wonder to Alaska - Inside Passage
Disney is Wonder-ful on the high seas!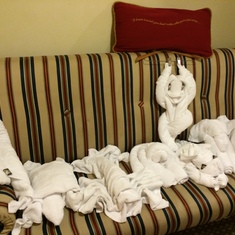 My college friends and I like to travel together, and this trip had us sailing the high seas to Alaska on board the Disney Wonder. It's been about a couple of weeks since we left the ship, and frankly, we can't wait to take another Disney cruise!
Embarkation: It was relatively organized and we got on board in less than an hour. You need to remember that Disney allows you to bring aboard 2 wine bottles or liquor in your CARRYON, but the airlines requires you to put the alcohol in your LUGGAGE. As long as you don't confuse the two, you will have a trip with no regrets (unlike me).
The First Day: Our bags were delivered before we had to go to our muster station for the safety drill. We ran around the first few hours to sign up for the free prizes at the spa, free 90MB internet, etc.
Tip: Download the Disney Cruise Line Navigator app to your phone before you arrive on the ship, and activated it when you're on the ship. Even if you put your phone on Airplane Mode, this app can be used to see all the movie times, event times, menus for every restaurant, etc for each day. Use the calendar on the top right to change days. It will even give you disembarkation information (be sure to read the info before your 2nd to last day on the ship).
Tracey Arm Day: The ship will go as close to the glacier as possible so please remember to bundle up and go early so you can grab a good spot for viewing. They serve soup in bread bowls, warm chocolate chip cookies and hot chocolate and coffee up on Deck 10 so you don't have to miss a moment of the excitement of spotting wild animals and the beauty of nature. Character sightings of Minnie, Mickey, Donald and Goofy in their Alaskan outfits were available on Decks 9 and 10 as they wander through the crowd at random times in the morning. There were no character sightings scheduled on Deck 3 until all of the excitement of Tracey Arm is finished so you won't have to head back indoors unless you have to. They had random princess sightings wandering decks 3, 4, 5 in the afternoon as things were starting to wind down. The princesses that were available were: Rapunzel, Tatiana, Cinderella and Ariel. I ended up wandering around 4, 9 and 10. There's a different perspective from all of the decks. Deck 10 has the full 360 view but it's also the most packed. Deck 9 still had good views but it might be somewhat obstructed by the glass enclosures but that's what makes it slightly warmer. Deck 4 had good side views but you'll miss out the views from the forward and aft as those are usually blocked with ship machinery.
Disembarkation: We had breakfast at 8am (2nd seating) and said the final goodbyes to our servers! We waited about an hour for our character and color to be called so we could stand in a line to disembark the ship. We went thru immigration and customs pretty quickly after that. However, the lines for the cabs were pretty long since we declined to split up our group and move into the faster line for 3 or less people.
Tip: Ask Guest Services for items like free ear plugs, extension cords and ponchos (these are better quality than the dollar store variety and it comes with Mickey emblazoned on it!). Buy Disney Wonder/Alaska sailor hats, shirts, etc on the ship to be signed instead of bringing pillowcases. Noticed that sales items changed each day but the 2014 stuff was always on sale. You gotta admit that you were going to buy it anyway so you might as well get it signed by Mickey & the Gang.