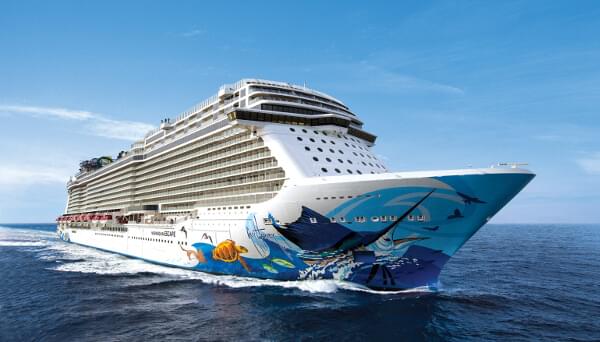 January 2016 - 7 Night Eastern Caribbean (Miami Roundtrip) Cruise on Norwegian Escape
Escape Family Cruise 1-23-16
We are a retired couple who cruised with our adult son and four 20 something grandchildren.  First cruise for the grands.  We and our son were in an M6 mini suite with large balcony on deck 8. This class of mini are all located forward on deck 8.   This is a great location near both Food Republic, the District Brew House and The Waterfront.  Very close to the aft stairs and elevators and the mid ship shops, casino, atrium and restaurants are a short walk away. The Waterfront is wonderful quiet place to relax with large padded couches and chairs with outside bars nearby.  We ate in outside restaurant seating twice here.  Our large balcony had two lounge chairs and two regular chairs and a round table.  A small overhang near the sliding door provides some shade while the remainder of the balcony is open.  The bathroom is very large in the M6 with a double sink and huge glassed shower with multiple body sprays and rain shower.  The only flaw with the cabin is that it is a tight squeeze to get into the hanging part of the closet due to the close proximity of the couch.  Plenty of shelving for storage.  We found it to be very quiet, with no noise from the adjoining cabins, waterfront areas or the Brew House which had evening entertainment.
We all had dining packages and ate at specialties 6 nights.  We found the food quality to be excellent, even in the buffet, which had carving stations and multiple stations with a large variety of food to fit any palate.  I could be completely happy just dining here.  Finding a seat by the window was never a problem.  Surprisingly, in Le Bistro, a favorite on other ships, our service was very poor and not at all what we had experienced in the past.  Otherwise, service was excellent.  Most of us had drinks packages as well, and we experienced no difficulty with service that some have complained of.
Biggest disappointment was that the dinner show, For the Record, the Brat Pack, was cancelled for the entire week due to an injury.  But because there is so much other entertainment going on in the theatre, Headliners with comedy, Howl at the Moon, live music in 5 O'Clock Somewhere Bar and the District, as well as deck parties at night, you would need to clone yourself to take it all in.  The theatre show  
For the Record, in my opinion is the best show I have ever seen on a cruise ship.  This show is currently touring nationally and is not a ship production.  You would pay well over $100 to see this in Vegas rather than $0.  The real dud in this ships entertainment is After Midnight.  If you had not read some background to learn it is based on Harlem's Cotton Club of the 30's, you would have no idea.  No story line, poor dancing, IMO.  There were many who made an early getaway, like ourselves, and this is something we have never done at a show.  They need to scrap this show.