February 2016 - 7 Night Eastern Caribbean (Ft. Lauderdale Roundtrip) Cruise on Westerdam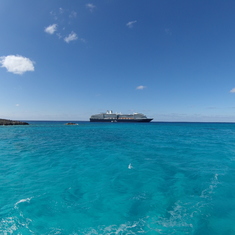 this is the first cruise I ever had been on. My spouse had been on many and on different lines but never Holland America. She loved it more than the others. the staff was great. the food (though not a buffet in the typical terms) was awesome. you think of a buffet as cattle call and people grabbing tongs and pilfering through the mounds of food. they had staff that would fix whatever salads you wished and pastas cooked and flipped right there for you. great.
The Boat was gorgeous. though dwarfed by Oasis of the Sea(we were docked next to) it was much nicer in that it was overwhelming in size I don't think id have ever found the stateroom on the bigger ships nor felt like I saw the whole thing. the state room with balcony is the way to go. romantic and a great place to have coffee in the morning while at sea, in port or anchor. if you don't drink a lot then your in the clear. big drinker? plan ahead for a bar bill. you cant bring much with you so just figure on spending it aboard.
Not a lot of shops on board, which was nice. GREAT shows and the Northern lights dance lounge with Andy was the best. great BB king music in the other lounge, awesome.
ports: Grand turk.... well the water was great and just for lounging on the beach is nice. san Juan will take all day to walk the forts but worth seeing or go out on a sightseeing excursion. St Thomas what fun and beautiful. we walked from one harbor to another and to paradise point. what a view. you can grab a fast water taxi cheap and be in tortolla for the day with dolphins or st johns or whatever. haft moon cay(Holland Americas island) is beautiful water. clear like a pool. we just kayaked and sat on one of the many lounge chairs on the water. I recommend the captain morgans shipwreck bar. the Hawaiian sounding drink and the bushwhacker are excellent. the sail home was depressing as we were in port by 7am the next day.
What fun and the people we had dinner with in the open seating NICE restaurant were great and from all over the world. many were cruise pros. and all had nothing but nice things to say about Holland Americas Westerdam compared to their other cruises. I was told I "set the bar high for my first cruise" . but did a very good. it out ranked Princess buy all that had been on both. and Im not big on a bunch of kids so Carnival wasn't my first choice and I was assured it was a good thought. Im 51 not 20. nor a grandfather so I don't get into the kids splashing around in the pool and taking up the hot tubs while im trying to relax and there were very few kids onboard.
OVER ALL LOVED IT