February 2016 - 4 Night Bahamas (Miami Roundtrip) Cruise on Norwegian Sky
They should have told us...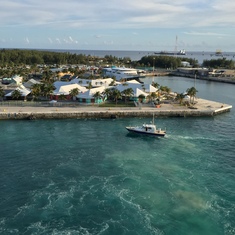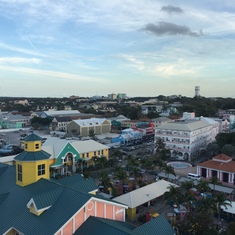 Generally we enjoyed our 4 day trip to the Bahamas on the Norwegian Sky, but it would have been nicer if the cruise line and travel agency had told us the reason that the tickets were so deeply discounted at the last minute...college spring break. Our ship was overwhelmed with about 1,000 college students who partied all day, every day, late into the night. We have nothing against spring break or young adults having a good time, but this wasn't exactly what we expected. This led to virtually no place on the ship where we could have a quiet, relaxing time. Every bar was crowded, there was loud music everywhere, and there was the nightly pounding on the doors down the hall by inebriated students who were trying to rouse their roommates to open their stateroom doors after they had locked themselves out. We never got into the swimming pool or hot tubs, because the pool deck was virtually uninhabitable due to overcrowding and high volume music during the constant party. At one point the pool had to be drained and closed, most likely because of various liquid contaminants.
The port stops in the Bahamas also turned into loud parties, at least close to the ship, where the promoters of the College Spring Break cruise had chartered entire bars to continue the party.
We found the cities of Nassau and Freeport to be a bit lacking in cultural and natural activities. Mostly it was "fun in the sun" beach day trips and shopping excursions, and we were not interested in either.
The food on board was acceptable but not spectacular. The gymnasium was decent. The on board shopping was expensive. The on board entertainment shows were unimpressive, sometimes degenerating into NCL's attempt to promote shore excursions or sell raffle tickets. The art auction featured rather pedestrian artists at artificially high prices, despite the endless efforts of the sales staff to persuade the guests what a bargain it was. The casino was extremely smoky and in a central part of the ship's entertainment decks, so it made passage from one end of the ship to another quite difficult. The decor of the entire ship seems a bit dated and in need of upgrading. Despite being hamstrung by the limitations of the ship and the passengers, the staff were at all levels wonderful, hospitable and eager to help in any way.
So overall, it was a nice getaway, but a bit disappointing.