December 2016 - Celebrity Equinox to Caribbean - Southern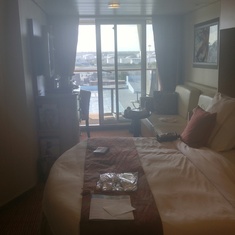 I NORMALLY AM AT MY BEACH HOME IN EXUMA BAHAMAS DURING THE HOLIDAY, BUT DUE TO DAMAGE FROM HURRICANE MATTHEW THE HOME WAS BEING REPAIRED.  I THEN DECIDED TO DO A HOLIDAY CRUISE. I'M SO GLAD I SELECTED CELEBRITY CRUISE LINE. WITH BEING A PAST GUEST OF CELEBRITY, THE EQUINOX SHIP PROVIDED ME WITH EXCELLENT ACCOMMODATIONS, STAFF MEMBERS (CHRISTOPHER-CABIN STEWARD,BARTENDER - DAVE FROM JAMAICA, EMMA - SHOPS ON THE BOULEVARD, AND MARIA - SILHOUETTE DINING ROOM HOSTESS) DELIVERED CUSTOMER SERVICE UP A BEYOND WHAT IS EXPECTED OR REQUIRED.  THE PORTS OF CALL WERE EXCEPTIONAL AS WELL AS THE OTHER TRAVEL MATES I MET ALONG MY JOURNEY. KUDOS TO CELEBRITY CRUISE LINE, A JOB WELL DONE!!!!
P.S.
A SPECIAL THANKS TO MY TRAVEL AGENT FOR ASSISTING IN MAKING THIS TRIP A REALITY.