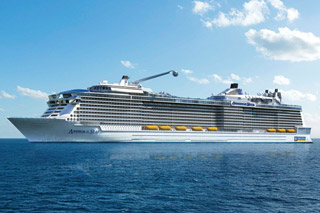 August 2016 - 9 Night Bermuda & Eastern Caribbean (Cape Liberty Roundtrip) Cruise on Anthem of the Seas
NOT EVER GOING ON THE ANTHEM AGAIN
BEAUTIFUL SHIP, GREAT PORTS..GOOD FOOD TOO BUT HAD TO MAKE A RESERVATION FOR THAT..
RESERVATON FOR SHOWS WHERE THERE WERE ONLY FOUR..
NO DRESS CODE BIG FAT MEN AND WOMEN WEARING SHORTS AT NITE
NO CODE FOR KIDS EITHER.THEY WERE SITTING AT THE SCOONER BAR AT NITE..SITTING AT THE 10.30 SHOWS AND EVEN THE ADULT ONE AT 11.PM WITH A LOT OF SWEARING...
SORRY TO SAY I PAY FOR MY CRUISE AND DO NOT WANT TO BE IN THE COMPANY OF KIDS AT NITE ALSO NO DRESS CODE..THE ONLY PLACE WE CAN WEAR OUR BEAUTIFUL CLOTHS AND JEWELLERY IS ON A CRUISE SHIP NOWADAYS..
WE HAD A TIER PARTY  AND EVERYONE WAS DRESSED LIKEE THEY WERE GOING OUT TO DIG IN THE GARDEN...SAD  VERY SAD...
WE HAD KIDS IN THE WINDJAMER STANDING ON THE TABLE 3 OF THEM TAKING THE TABLE # OUT OF THE STAND AND THROWING IT AROUND ALSO PUTTING SALT INTO A GLASS CONTAINER..POINTED IT OUT TO THE WAITER AND HE DID NOTHING.....
LAST BUT NOT LEAST AT NITE AFTER YOU HAVE SEEN A SHOW AND THAT WAS VERY FEW THE ADULTS HAD NOTHING TO DO ALSO IN THE DAYTIME AFTER LUNCH NO GOOD MOVIE INSIDE THE SHIP SO MOST OF THE ADULTS WERE BORED AND EXPRESSED THAT OPINION TOO...
IF YU WANT PEOPL;E TO BE LOYAL TO ROYAL YOU HAD BETTER CORRECT THESE HAPPENINGS TOO...
SORRY TO HAVE TO TELL YOU THIS BUT SOMEONE HAS TO
TO...MAYGERON