January 2013 - Norwegian Star to Caribbean - Western
Much better than Carnival cruises!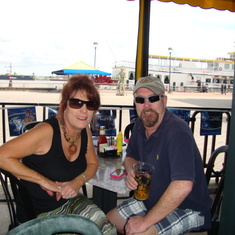 Love the Free-Style dining! Didn't have to line up for a set dinner time like on Carnival. In fact, we had no trouble or wait getting into the regular dining rooms, the Versailes and Aqua; however, would recommend making reservations early in the day for them as well as the speciality dining. Tips are added automatically to your ship bill. The food seemed better too. Liked the shower glass doors. We left New Orleans on Jan 26 and returned on Feb 3rd, 2013 for the Western Caribean 7 night cruise. There weren't very many kids and strollers on board this time of year. We got very lucky and the weather was beautiful until the last port, which wasn't so bad that we couldn't get out and do some shopping. I don't think it was a beach day. We were all welcomed back on the ship with a big party the crew put on between our ship, the Star, and the Peral. Service was very good. The shows were very good. The only thing I would have to complain about are the TV's in the staterooms. Ours was a very small one, not a flat screen either.