March 2015 - 8 Night Eastern Caribbean (Port Canaveral Roundtrip) Cruise on Carnival Sunshine
The ports were excellent. The beauty is beyond words to explain.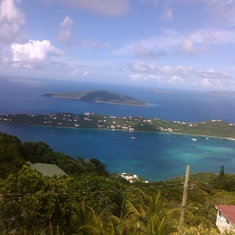 Overall we loved the cruise.  We read some reviews prior to selecting this ship and all of the ones we read were right on target to what we found.  The food and entertainment was great.  The ship had a lot of motion.  If you get sick easily, I recommend Dramamine the night before departure.  The adult only section was wonderful.  The chairs with cushions were very comfortable.  The only issue is with 3000 people on board not that many people get one.  You had to get there early or they were all gone.  I wish they had placed time limits on them because some people stayed from daylight to dark in them.  We were able to enjoy them some so it wasn't a complete loss.  The ship seems to cater more to the younger crowd which is fine.  We like kids and knew that going into it.  However, we did stay on the upper levels for adults only most of the time.  The staff was excellent.  I found that they pushed the alcohol.  We are not drinkers so we just overlooked that part.  It was a vacation of a life time!!!! Loved every minute of it!  Vacation is what you make it.