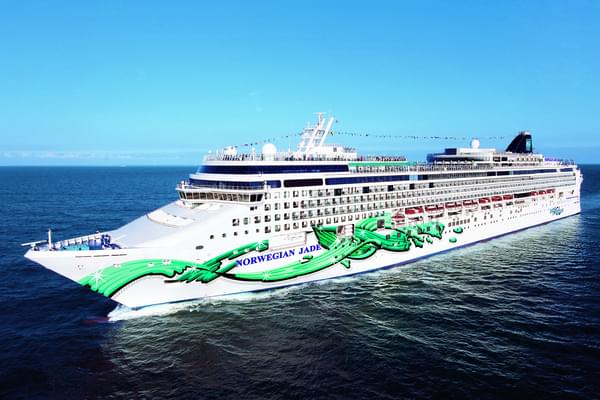 February 2016 - 7 Night Western Caribbean (Houston Roundtrip) Cruise on Norwegian Jade
A Cruise with some with high spots and some lows
I have always said that even the worst cruises still have some good points. Certainly, Norwegian Cruises wasn't a terrible cruise but there seemed to be more than an expected number of oops than I've had on other cruise lines. 
Starting from the beginning, boarding was fast and painless and the rooms were ready when we boarded. The mini-suite was roomy with more than adequate storage room. Luggage was promptly delivered. Then when one visited the buffet you started to notice little things. Getting served was easy but finding a place to sit was impossible and none of the staff seemed to be in a hurry to clear dirty tables. The result was walking around looking for a spot and then just walking up to strangers with an empty seat and asking if we could join them. Haven't noticed this problem on other lines. Seemed the personnel were unconcerned and didn't pay a lot of attention to the passengers. 
Then next day was when you really started to notice just how much personnel had been reduced. Our room wasn't cleaned until late afternoon and then towels and wash cloths weren't left. Finally found a cart in the hallway that had some towels. I can't fault the cabin attendant he was trying but you could tell he was way overloaded. To be fair I have noticed over the last few years that most of the large ship lines have made personnel cuts but at the same time I have never not had my cabin cleaned until almost 5PM.and then not have bathroom linens supplied. 
On a positive note three of the four specialty restaurants we visited were outstanding. Le Bistro and Cagney's were first rate, with delicious food and impeccable service. Moderno was also very good and offered a good variety of roasted meats. The only disappointment was the Italian venue called La Cucina. The location is in a spot where there is a banging noise overhead which was distracting. Service was very slow even though there were few people dining. Then when the food was served it was barely warm. I sent back an order of calamari that were cold, greasy, and tasteless. They came back a bit warmer but still not appetizing. The entree was the same, served cold and by this time we had waited over an hour and gave up. I heard similar comments from other cruisers saying the same things. The visit to Grand Pacific was less than pleasant. It was so noisy that people were shouting at each other across the tables. Also food was served at best lukewarm. Even though this was a "free" dining venue I would have expected the food to be tasty and served hot. 
One nice aspect of the Garden Buffet at dinner time was the hot crepes that were prepared with fillings of your choice. The evenings we didn't eat at the specialty restaurants we enjoyed these special treats. I have never seen this done on a cruise line so kudos to Norwegian on this. 
Another very nice venue was the Mixers Martini Bar on the sixth deck. Bartender Charlie did a great job of mixing drinks and keeping the cruisers happy. We enjoyed Mixer's so much that we never made it to any of the other venues serving drinks. Another real plus was the beverage package that Norwegian offers. It was just as advertised, you could have any drink up to the specified limit. This was a very nice touch. 
One of the biggest oops was when the toilet decided to stop working. Push the button and nothing happened. We'd call customer service and be told they's report it. Finally gave up and went looking for other options. Then the commode would decide to operate properly for a short while and then stop again. Finally, someone admitted they were having problems with the system. I realize that maintenance issues are a fact of life, but just be upfront and tell us that you have problems and then we can come up with solutions. This along with the poor cabin service was what kept this cruise from being first rate. 
Would I cruise again with Norwegian? Since they are leaving our area this spring and won't be returning most likely I will not. If this had been my first cruise most likely these negative points wouldn't have mattered that much. But as a long time cruiser I've had much better experiences and most likely will stick with them. 
Please remember that these are only my observations and as such may not be viewed by everyone in the same manner. As I mentioned in the beginning, even  the worst cruise still has some high points and in all fairness Norwegian did have some of those.