December 2013 - Emerald Princess to Caribbean - Southern
Great Cruise to get out of the winter cold deep freeze of Dec. 2013!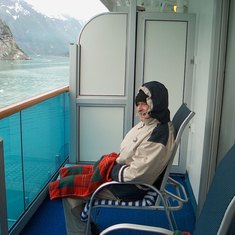 The picture above is from an Alaska cruise on Princess in 2013. The Emerald ship was large enough to not feel crowded. She is a beautiful ship and very clean. The food was very good with lots of variety. We went between Thanksgiving and Christmas which was a good time for lower cruise price and lower air fare. They had the ship nicely decorated for Christmas. We have been on many cruises and many Princess cruises. We tend to like Princess best for over all value and consistance. The bed in the balcony cabin could have been better but not bad, probably needs to be replaced. This ship was lacking in entertainment compaired to other Princess ships we have been on but then we were in a port almost every day so the entertainment was not that important to us. The embark and disembark was easy and went well.