March 2016 - 14 Night Western/Eastern Caribbean (Ft. Lauderdale Roundtrip) Cruise on Eurodam
Good value, and a quiet environment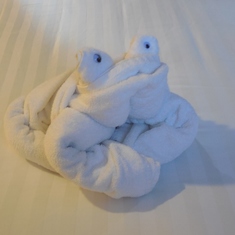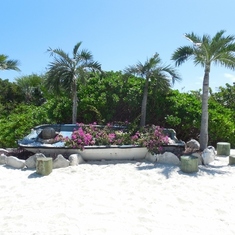 We enjoyed the Eurodam, especially after spending four nights on a Carnival cruise in January, where finding a quiet place to read or talk was impossible. Yes, there were children on the ship, but they were well behaved and a pleasure to watch as they enjoyed themselves or amused their parents. Cruisers were in general a quieter crowd, and it seemed there were more peaceful spots to settle without interruption. Among the pleasant places were the library, with lots of books borrow and games to play, and several jigsaw puzzles awaiting attention, and the Lincoln Center area, where fine music took place several times a day, or one could just sit quietly other times. Even the deck had plenty of space, despite the presence of those new annoyances, private cabanas, which strike me as a silly affectation! The staff were attentive without being aggressive salesmen (waiters and store staff). The ship was clean, decks swabbed every night, linens spotless, towels plentiful and large. The digital workshop in conjunction with Windows is a great free amenity, really helpful and fun as well, not to be missed, especially if you are about to change to Windows 10. There were so many activities available at any time one usually had to choose among them, and I found myself rushing from one end of the ship to the other to catch a trivia game or a demonstration.
Embarkation was a bit laborious, but dividing the group in half from the start gave one the feeling the line was manageable. And disembarkation was grand, as passengers were allowed to remain in their cabins until their number was called, so there wasn't the usual irritated crowd of people lounging around in every public space. Upon return from each port we were greeted with cold towels and lemonade or water, very welcome after a hot excursion. And I really like the "private island" concept where one is not barraged by demands to buy souvenirs. The food was ok, but some dishes could have used more flavor or less cooking. Service in the main dining room was good, but not always as fast as one would have liked. The Lido was probably the better place to eat if one didn't mind carrying food around and seeking out an empty table.
The issue of smoking: There are still areas on board where smoking is allowed, but given the older crowd even the casino did not seem as obnoxiously smoky as it might have been. Smoking on the balconies is still permitted, and occasionally impinged on our pleasure in sitting outside. This issue naturally varies from cabin to cabin, cruise to cruise, so you take your chances with it. Yes, I would recommend this trip.