July 2011 - Viking Pride to Europe - Eastern Mediterranean
p Seeing Europe on the Viking...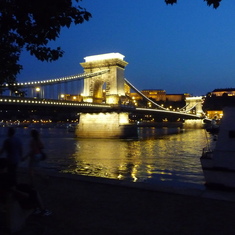 p Seeing Europe on the Viking Pride was absolutely WONDERFUL. We were met at the airport and taken to our ship. We unpacked in a stateroom that was better than we had imagined. After unpacking we were set for u14/u days. Each day our program director, Michael, gave us an overview of what we would be experienceing and seeing. We would start the day with a walking tour of the city we were docked at. Each guest had a receiver so that we could always hear our guide. We were also given free time in each city to shop or go to museums, etc. We always had a map available of the area to find things and make our way back to the ship. Our guides were outstanding. The places we visited were beautiful and gave us a real feel for the country we were in. The food on board was excellent. There were about 150 guests and we had free seating. That way we got to know quite a few different people. When we were crusising, the views were spectacular. When we got to the Rhine Valley and there were castles at every turn, we had someone on the PA system to tell us what we were passing. My husband thoroughly enjoyed getting up a daybreak and watching the scenery go by. All in all this was one of the greatest trips we could have imained.