July 2015 - 7 Night Alaska Glacier Bay Northbound (Vancouver To Seward) Cruise on Norwegian Sun
Ports of Call are AMAZING, Cruise itself was 'fine'.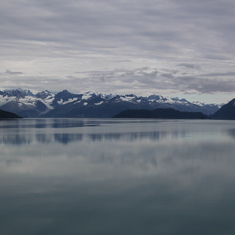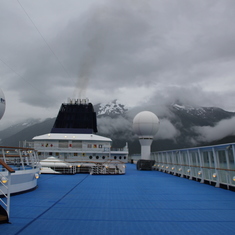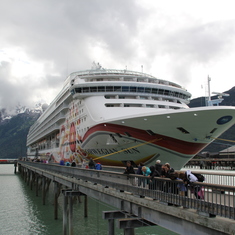 We went on the Norwegian Sun cruise to Alaska departing from Vancouver, BC in July. We had read mixed reviews so I was a bit nervous but honestly kept an open mind. We were going to Alaska so no matter what we were going to make the best of it. The boarding process in Vancouver was extremely well organized and we were very impressed with how nice everyone was and how quickly we got through each step. Immediately upon boarding the 'vessel' you could tell that the ship had some years on it. It was in need of a remodel. Our stateroom attendant greeted us as soon as we got near our room and used our names each and every time we were around him, including the names of our kids. He did a great job keeping our room clean. We chose a 'guaranteed' room so we didn't pick our room but we were very pleased to have been upgraded to both mid-ship AND to a handicap room which was HUGE--at least 2.5-3x the size of a regular stateroom. It was on the 9th floor and a perfect location. We did not have a window but were rarely in the room so it was no problem at all. Even the guests who had balconies told us that they spent most of their time on the deck. This is not a cruise you want to spend a lot of time watching shows, or playing games because there is so much to see outside and we saw a TON! Whales, dolphins, sea otters, seals, eagles, puffins, etc.
The service otherwise was fair-poor. We loved the free-style dining experience because we enjoyed the flexibility of eating whenever we wanted. BUt it seemed that as a result the waiters took less interest in the guests. From the moment you 'check in' at the front you are generally ignored. Although you show your stateroom key we were never addressed by name, never welcomed back, nothing. In fact, the women at the front didn't even say Hello. Nothing! With the exception of ONE staff member who served us dessert one night, the waiters also barely spoke and when the language barriers were such that you really couldn't understand them. We never got the 'Chef's Selection' because we could never understand what the waiters said it was. One night we asked two different waiters and neither of which said the selection clear enough for us to understand. In the past I was used to waiters bending over backwards to help you...on this cruise I had to flag someone down just to get my water refilled. Service in the dining rooms was very very very poor. THE FOOD, however was surprisingly quite good! I would skip the steak, it was never good. But everything else exceeded our expectations, which admittedly were not high. We did the breakfast buffet all but one day and that was our first day. We went to the dining room...again poor service...and the menu mirrored the buffet only it took about 1 hour longer. The breakfast buffet doesn't change, which got a little old. Lunch and dinner buffet always changed and the food was very good and always fresh. The pizza was excellent.
A few tips...get up VERY VERY early to see the glaciers. You will want to secure your spot at the observation lounge. It is the best viewing spot. The captain rotates the ship completely so no matter which side you will get a great view. It gets VERY cold out there, so pack accordingly. I was AMAZED to see how many people dressed as if they were going to the carribean--sundresses, sandels, etc. Dress for Alaska, coats--hats--gloves! We could have even used hand warmers. Our day at Hubbard Glacier (in MID JULY) was a high of 45 degrees. Our hands were numb.  Also buy the best pair of binoculars you can afford. They will sell them before you board the ship but the prices are much better before you go. You won't regret it! The wildlife is amazing but sometimes it looks very tiny with the naked eye.  If you have a chance, rent a car and spend some time in Anchorage before or after your cruise. There are lots of wonderful things to see here as well. At sunset (which is very late of course) drive the the end of Northern Lights Blvd for a good chance to see moose. We saw two.
Finally, don't put this trip off. We saw so many elderly people who were clearly marking this off the bucket list but were so debilitated and weak that they really couldn't enjoy all of it. Do it now! Take your kids. It is an amazing experience and something you should really do today!
**One final thing** OUr kids are 8 and 11 and did not like the kids activities. They often combined the younger groups so one day my son wanted to go and it was 'free play'. He was mixed with the 3-5 year olds and they were playing duplex legos. We asked if he could join his sister and they said no for 'safety reasons'. He tried one other time and the situation was similar. My daughter, the 11 year old, said that they didn't give them much of a choice as to what to do. You either did the activity at that time or you left. We were used to Disney where, of course, the kids activities are planned extremely well.