December 2016 - Norwegian Escape to Caribbean - Eastern
Nice but not as stress free as other cruises I've been on.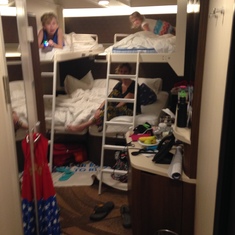 Favorite part - enjoyed brewhouse and art auctions...fun, but be ware the auctions are mostly prints not original works..but still fun. brew house fun because we paid extra for the unlimited beverage package.  Dinning package is un-nessesary. Regular dinning in Manhattan room was fun and good food, one of the best steaks ever (paid extra for that) Cagneys good for steak Moderno - okay, the lamb chop was the best there, and Teppanyaki's was the most fun/best of the fancy/pay extra places we went to. 
We paid $4500 for a family of four. parents and 3 and 8 year old. not including air taxis etc. oh yea. and that was an inside room at the back of the boat.
They did have a great kids program, our kids enjoyed that.
Sea days the pool area was a mess.  "pool police" were there to make sure you didn't try to add a chair etc. impossible to find a chair - rough with kiddos.  Never once in the whole week did one bar person ask us on deck by pools if we needed a drink, but i did get a cold towel one day - that was nice.
Slides were fun, some days crowded some not.  Food everywhere buffet was good, I thought, one day they do a shrimp burger.. AWESOME.  I thought I gained 10 pounds..lol
Nassau is a dump, not sure what people do there besides Atlantis but I already paid so much I wasn't going to fork another 500$ for our family do to that.  We walked to queens staircase (pretty neat) and junkanoo beach. eh.
Tortilla was good, we took a taxi to Cane Garden Beach for $8 a head.  apparently kids are only $4, but no getting money back after the fact.. over all good little trip and family friendly beach there..liked that. lots of food/drinks fun beach.
St. Thomas we went to Trunk Bay.. little $ with taxies and ferry. but it was a nice beach.
Over all, too small pools/not enough pool area for families kids on the ship.  Feel like your nickled and dimed for everything- finally figured it all out over half way, to feel less stressful.  Didn't like the inside room darkness day/night, but that is our own doing. next time.  Just being on a boat i guess.. so many benefits to an all inclusive resort.. I guess we are resort people :)
Wasn't all bad, good food, okay drinks.. i miss the cruises that put my frufru drinks in fancy cups. everything here was a plastic cup unless at the brewhouse they did have a fancy cup.  
Room was always clean great room stewart.. service in dinning and deck not so great/happy.
The last NCL cruise.. maybe the last cruise for us.. just not great for the $ spent.