April 2016 - 7 Night Western Caribbean (Miami Roundtrip) Cruise on Norwegian Getaway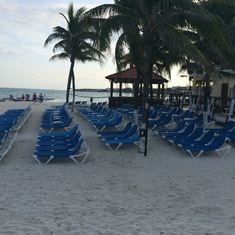 This was our first cruise. It was a really good time for us. Being first timers I would have appreciated more help and direction from the staff. I guess because it is freestyle they pretty much leave you alone and don't approach you or say much. Educate yourself and then trial and error. The staff are friendly and helpful when asked directly. Embarkation is a bit overwhelming, but relax and it's over soon, then it's clear sailing and fun.
We got a balcony room and it was perfect! We could watch as we sailed in and out of ports. We watched other ships passing by. Sunrise and sunset from your balcony is so special. 
We purchased the soda package and we're glad we did. We didn't get a dining package, but there are so many complimentary choices it was never missed. We saw legally blonde and burn the floor, both are excellent. The Illusionarium show is a must see! Pay the little bit extra and get the good seats. It is worth it, and arrive early for the best seating. The food was really good during the show. 
We booked our excursion to Tulum through the boat and it's a good thing we did. One of the buses broke down and made us late getting back, but the boat had to wait for us, otherwise we would have been left.
We loved cruising and will definitely go again!