How to Take the Best Selfies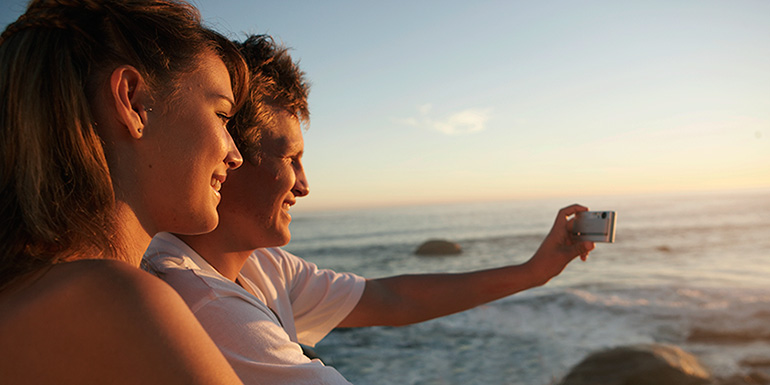 There will be moments on your cruise when the stars align for the perfect photo op — the view is gorgeous, the lighting is perfect, and your hair is inexplicably behaving. Unless you invest in a tripod, hire a personal photographer, or constantly pester strangers to photograph you, you'll have to learn to perfect the art of the self-portrait, or "selfie," the photo you take of yourself with an outstretched arm.
If you're traveling with friends, family, or a significant other, you can spend a lot of your trip shooting photos of each other, but there will still be instances when, as a pair or a group, you want a shot that you're all in. These group shots — taken by one of you — are also considered selfies.
We interviewed rock star travel photographer Tara Donne to get the scoop on how to snap the best self-portraits while on vacation. Here, her best tips for shooting photos of yourself on your next cruise:
Choose the right angle.
Donne says a higher angle is always more flattering. "You don't want to photograph the underside of your chin," she explains.
Don't leave out the background.
It's tough to get both yourself and the backdrop in a selfie and, unfortunately, there aren't any tricks to doing this well. Your best bet? "Hold the camera as far away as possible for a wider scope," says Donne.
Choose suitable lighting.
According to Donne, midday sun is least appealing — it casts shadows under your eyes and creates the harshest contrast. Of course, that's when you're most likely to be out sightseeing on a shore excursion. If you're wandering around a port for the whole day, try to snap self-portraits at key sights in the morning and early evening, when the sun casts a prettier, more flattering light.
Use the flash sparingly.
Donne says sunlight is usually bright enough that no flash is necessary, and shots without flash tend to be more flattering. So what do you do if it's noon and the sun is creating a stark contrast? She suggests going to a shaded area and taking a photo with flash. The result: a softer image that will match the exposure of the well-lit background.
Change the rules at nighttime to account for darkness.
Taking a photo at night of, say, yourself on the ship in your formal wear? "If you want to capture the background, try turning the flash off and taking the photo in a well-lit area — just try to keep your hand as steady as possible!" Donne recommends.
Choose the right setting.
Backdrops that aren't busy look best, according to Donne. She advises taking your picture in front of a bold and simple background: "An iconic landmark, a landscape, a cool or colorful textured wall, or the sea are great options."
Experiment with filters.
Donne suggests running your selfie through a smartphone app for enhancing when you get home. Making a photo black and white, for example, will soften a harsh contrast. She recommends Hipstamatic and ShakeIt, iPhone® and iPad® apps that process your digital photos through a variety of antique-looking filters.
iPhone and iPad are trademarks of Apple Inc., registered in the U.S. and other countries.