December 2014 - Jewel of the Seas to Caribbean - Southern
Good itinerary, great service, good food but not as great as I expected.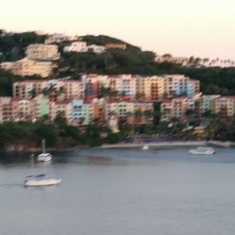 Outside cabins were a good size with a couch but old TV's and just felt old. It is getting refurbished in 2015 so I'm sure will be done well. Our attendant Warren was excellent. He always had ice for us 2-3 times daily and made the cutest towel animals for us. We have taken Carnival cruises prior and was told the food was a step up on Royal Caribbean however with the exception of the lamb chops and the lobster nights we did not notice a big difference for the $$ difference. We were traveling with our 24 yr old daughter and had fun dancing with the DJ in the Vortex lounge after dinner. We ate at the second seating which was at 8:30 so could go to the shows at 7pm before dinner. We did not due to the quality of the shows were not worth seeing. My husband fell asleep in the couple we did go to. Our fellow travelers seemed to be less kids and more older than on Carnival. We have also taken Avalon and Viking riverboat cruises and think we prefer the small ship experience however the ports in the Caribbean cannot be reached. We loved St Thomas, St Maarten, St Kitts & Barbados but were not impressed with Martinique. The people were rude and everything was super expensive. We were in Barbados on Christmas day so everything was closed. We do not book tours on the ship and usually find a driver to take us where we want, usually around the island as you are only there for a few hours ending up at a beach or a local food spot. This worked everywhere except Martinique where the taxis would not even try to communicate with us and no one spoke English...All in all a fun time was had and we would take Royal Caribbean again but would want the newer bigger version.