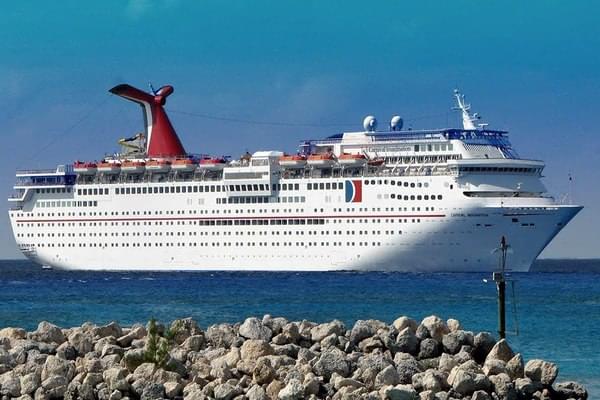 June 2016 - 4 Night Catalina & Baja Mexico (Los Angeles Roundtrip) Cruise on Carnival Imagination
Fun time for first time cruisers, hey some parents needs lessons on how to parent
As the Hasbro game show began I felt someone step on my neck, it was the kid from behind our booth whose parents allowed them to crawl on me. I moved and the kid followed me, we left. In the Karaoke bar, yes bar as hard alcohol was being served a 3 year old kid stood on stage at 10 pm singing as her "mother" guffawed over her, and yes, you know who you are if your reading this, Do you really think adults are There to hear your kid sing? after a long day we want a little peace away from your kids. there are places provided on board for little kids and an adult karaoke bar is not the place. and no, it was not cute, it was sad. As far as cabin cleanliness, ours was tops and Kerwin ( we were on the Riveria deck) was so polite and courteous, there was no place on bill to tip him, we looked for him but could not find him. The food was good but the buffet could offer more choices. A sushi bar would have been great. The boat was clean and everywhere we encountered the crew or staff they were so polite and professional and we absolutely loved that! I give that a ten! I give the ship a 10.
I think the only issue would be the long wait for food in the Pride dining room. It took almost an hour to receive our entrees one evening and we were the fourth couple to enter the room! The food was good though so no issues there.
On the Elegant dining night we were a little disappointed that the maitre d, allowed people in dressed in blue jeans and tee shirts, we dressed up and were seated next to a young fellow who looked as if he was going to pick weeds, another fella sat across in an an old tee shirt. They should have been turned away and pointed to the direction of the buffet or allowed in at the last half hour. I mean if your going to have an elegant night have it, we packed extra for this. please consider being a little more selective on this evening out of respect for what you advertise and what we pack for.
The gym was fantastic and the amenities more than anyone could ask for.
The craps table had inexperienced attendees but the game did keep moving and I won a couple hundred dollars which was nice, I also came out 56 bucks ahead on the video poker so the casino was a 10 for me LOL!
all in all with the exception of bad parenting and maybe the cruise not allowing children in bars the Carnival Imagination was everything we expected and more, a beautiful ship and a fantastic crew and staff and I would go again, well maybe the "day at sea" was a little rough as we both became a bit "queasy" as the ship rolled in the calm sea but other than that we LOVED IT!
We would not have purchased the "Fast to the fun" option as we did not receive any preferential treatment other than boarding the first time.