April 2015 - 3 Night Bahamas (Miami Roundtrip) Cruise on Carnival Ecstasy
CARNIVAL ECSTASY NEEDSSSS MORE AND WAYYYYY BETTER ENTERTAINMENT!!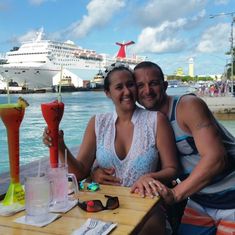 The cruise was great and I loved the fact that all the crew members that will pass by you, will smile and say Hello. I loved dinner time when my husband and I received a cake that read "happy honeymoon" and the waiter and waitress sang for us. The only thing i continue to criticize is the entertainment. The singer with the guitar was soooo boring!!!! He sang by the pool slow songs that were making everyone to fall asleep. The other group of guys were also not cheering at all... the entertainment really needs to improve!! More live music at the pool, calipso music or a metal drums band. Dancers, Bahamian carnival dress up people!!! Come on! We go cruising to the bahams to have fun, not to just eat and fall asleep by the pool. better entertainment!!