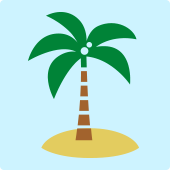 ZackKylieSam
Nova Scotia
Joined 08/2014
Upcoming Cruises
Past Cruises
March 2018 - 6 Night Eastern Caribbean (Ft. Lauderdale Roundtrip) Cruise on Carnival Conquest
Relaxing Cruise
Nice ship. 6 days is too short. Difficult to see comedy shows with late dining. Piano bar is OK but not as entertaining as some other ships. Good portions are smaller than other ships so order two apps. Internet wasn't great.
May 2017 - 8 Night Southern Caribbean (Port Canaveral Roundtrip) Cruise on Carnival Sunshine
November 2016 - 7 Night Western Caribbean (New Orleans Roundtrip) Cruise on Carnival Dream
August 2016 - 8 Night Eastern Caribbean (New York Roundtrip) Cruise on Carnival Sunshine
December 2015 - 8 Night Southern Caribbean (Port Canaveral Roundtrip) Cruise on Carnival Sunshine
July 2014 - 8 Night Southern Caribbean (Miami Roundtrip) Cruise on Carnival Breeze
Beautiful Ship,
We had been on the Dream twice, and this ship was very similar. I've cruised 4 times with Carnival, and I've NEVER complained about anything, but this time, I feel like I had several things that bothered me. Let's start with the good things:
The ship is beautiful and clean, and the staff is amazing, as usual. The food in the Blush Dining Room was really good, and arrived within a reasonable amount of time, so no complaints there. The Steakhouse was delicious, but we didn't get the same personal service that we received on the Dream, where the chef came to our table and asked how things were. The waitresses were perhaps being trained during this cruise. They were slower to ask if we needed anything, and seemed a bit disorganized. But they were all very kind.
We were looking forward to hanging out in the Red Frog Pub a lot. Emmanual is the head waiter and is excellent. Unfortunately, he wasn't around after day 4, so we had waiters who were much less interested in serving us quickly. Even when we were the only people sitting at the bar, it would take several minutes to be asked what we wanted. There's a small stage, and Justin Time (Just-in-time) played nice sing-along pub music. He lets you choose the songs, and he's a really good entertainer, The female singer 'Selkie' had a beautiful voice, but sang songs that were way too mellow.  The only real problem with the Red Frog Pub is that kids were allowed in there at all times. It didn't feel like an adult space. We were very disappointed by that. We're not used to kids in pubs.
On the Dream, we would stop at The Taste Bar, next to the Ocean Plaza, every evening to get a small taste of something yummy. On the Breeze the Taste Bar was only open a few nights. That was disappointing. Although it was open during the afternoons for delicious wraps and salads. The Ocean Plaza was a great place to hang out after the late supper and listen to music. This was the highlight of our cruise. 'GROUP 6' is an excellent band and played every night. We loved their music. Unfortunately, they shared the stage with Selkie (beautiful voice, boring music), Karaoke and occasionally Justin Time (who was really good, but not as good as GROUP 6). I wish GROUP 6 would have played for a few hours every night, all by themselves. The waiters in this area were wonderful, and it really was our favorite place to hang out in the evenings.
The Serenity deck was nice. Usual complaints with people putting their belongings on the 'clam shell' loungers (which are the best seats), and leaving for hours, while people walked around looking for seats. The waiters rarely came around asking if you wanted a drink. On the Dream Serenity deck someone asked you very frequently if you wanted anything. On the Breeze, it would be 2 hours before I would see a waiter. I mostly had to go to the bar myself to be served. Not a huge deal, but I would have liked to see more waiters.
The Piano Bar was our absolute favorite on the Dream. Not on the Breeze. I'm sure 'Jordan' is a nice guy, and he played the piano well, but I hated how he sang. It's hard to explain... my husband says he wasn't a good singer or entertainer. I thought he changed the rhythm, or the tone of each song so much, that you couldn't sing along, or really enjoy the song. It just wasn't enjoyable listening to him. Maybe he's new, or shy, but the Piano Bar was empty a lot. We felt bad for him. We tried 5-6 times to sit and have a drink, but always left after one or two songs. Sorry Jordan.
The Comedy Club was OK. We saw 3 shows, and only one was funny. We weren't 'offended' by anything, we just didn't find them funny. I probably would have still gone to more comedy shows, but the line ups were crazy.
Last comment is about the room. We chose room 12001 for several reasons. It was on the Spa deck, so we assumed it would be quiet. And it was the first room at the very front of the ship, so we had a fantastic view of the front of the ship on one side of our balcony, and only one neighbor on the other side. We thought we had one of the best rooms on the ship, until a few hours into our cruise. We knew the gym was on the other side of our wall, but every photo we found of the gym showed treadmills near the wall. I'm OK with the sound of treadmills. I'm NOT OK with the sound of people using the 400lb leg press machine from 6am to 10pm. Three weight machines were about 3 feet from my wall. It was beyond horrible. The banging was so loud that it woke me every single morning by 6:30am. The banging was everyday, all day. I really don't think that I enjoyed a full 20 minutes without the horrible banging ,for 15 hours a day, during the entire 8 days. Things fell off our shelves. Our phone fell off it's cradle. I love to take an afternoon nap on vacations, but it was impossible. It ruined my cruise. I could never relax in my 'spa' room. My husband slept outside on the deck. They couldn't move us because the ship was full. I was exhausted the whole 8 days. My room will never be anywhere near a gym on my future cruises. Lesson learned!!
I'm sorry for sounding like I complained a lot. I just wanted to be honest. I'm booked on the Carnival Sunshine next in a room far, far away from the gym! ;)
August 2013 - 7 Night Exotic Western Caribbean (Port Canaveral roundtrip) Cruise on Carnival Dream
February 2011 - 7 Night Exotic Western Caribbean (Port Canaveral roundtrip) Cruise on Carnival Dream
April 2007 - 7 Night Exotic Western Caribbean (Port Canaveral roundtrip) Cruise on Carnival Glory
Cruise Tips
Carnival Conquest
Get to Serenity early (7am) if you want a seat.
Pretty island, but not as green as Curacao. Paid $50pp through Carnival for a tour and beach excursion. Amazing beaches!
The port is desolate. It did not look inviting or safe to get off by myself. You defintely need an excursion if you get off the ship.
Gorgeous island. Look for IRIE tours just off the ship. For $25pp you got an island tour and beach excursion (and free pop and beer)!!
Love this port! You don't need an excursion... Just get off the ship and ENJOY!
Carnival Breeze
Choose your room wisely! AVOID 12001!!