July 2013 - Celebrity Infinity to Europe - Northern Europe
Excellent time on the celebrity infinity.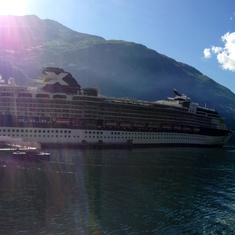 Staff was very friendly and attentive. The perfect marriage of taking care of all of our needs without being overbearing and in our space all the time. Rooms were kept incredibly clean and even the inboard state rooms were a very decent size With comfortable beds. While the ship is very large, it is very well organized design and easy to get around it. Elevators were plentiful, adequate, and rarely have lines waiting. While the embarking process was amazingly fast, efficient, friendly, and easy, disembarkation was even more organized and easy. We pretty much just walked right off the ship when we were told to report to our station. Easiest disembarkation process I have ever experienced. There were plenty of bars on the ship And I really never remember having to wait to get a drink. Food quality in the formal dining room was good, not great. Food throughout the ship on the buffets was all very good and fresh. The sushi bar On the buffet line was surprisingly good, and I am a big sushi connoisseur. The nighttime shows on the main stage were fantastic. Singers, dancers, and performers were exceptionally good And I am also entertainer myself. The performers in the other lounges were okay, not great. The overall condition of the ship was very good. There were some areas where it was starting to show its age, but overall a very clean and well-maintained ship. Some of the shore excursions left a little to be desired, but they were taking surveys and appeared interested in improving it. The ship was very stable even in very rough waters. The new gym facility and indoor pool and hot tubs were a nice touch, Although I didn't care for the odors in the indoor swimming pool area. In conclusion, I definitely feel I got my moneys worth and had an excellent time. I would highly recommend this cruise line and specifically the infinity ship. I know that I will definitely sale with them again. This was my first cruise with Celebrity, but it will not be my last. They really go out of their way for repeat cruisers. I noticed that with many people on board where they had sailed with them several times before. Many of the same crewmembers stay on that ship and recognize older customers by name. That was very impressive.