November 2013 - Majesty of the Seas to Caribbean - Bahamas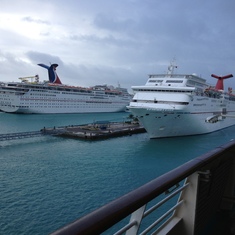 This was a very pleasant short cruise. The only trouble with shorter cruises is that if the weather isn't good and you miss a day of fun, then
there's not much left to do. Still, there's a lot of activities on board, the crew does it's best to keep everyone entertained.
This was a great experience, as always, and the cruise line delivered the usual high standard of service.
The only thing I'd like to mention is the the ship , "The Majesty of the Seas" seems due for a little bit of renovation.
Especially the carpets. It's still a delightful ship but a little update won't hurt.