August 2014 - Oasis of the Seas to Caribbean - Bahamas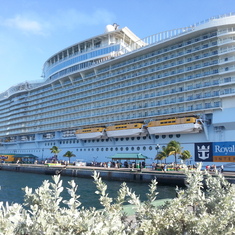 First and foremost the agent at Cruises only mad it easy and walked me through it step by step. She got me a GREAT suite withan ocean view balcony for less than an inside cabin rate!
Secondly, I used Park N Go in Ft. Lauderdale and that was perfect. Car parked, bags loaded ont the shuttle, no problem with security and on the ship 20 minutes after parking the car.
Thirdly, The Oasis of the Seas is Magnificent!!Food was good, shops and bars were intersesting and the on board entertainment was great.
Last, the attendants on board were the most polite and helpful people you could hope for. This being my first cruise and I sailed solo, they sat me at dinner with others of similar age and attude.
All in all I could not have asked for a better experience. I met a young lady who was a veteran cruiser who filled me in on shipboard activities and the cruise clubs you can join for alerts regarding future sailings and special pricing.
Thanks to Cruises Only and Royal Caribbean!!!