April 2014 - MSC Divina to Caribbean - Western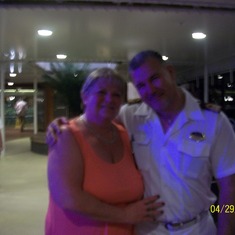 This was the most amazing cruise EVER! I would still be on that ship if it had been possible! I am definately doing this one again. Same places!! Jamaica, Caymen Isle.,Cozumel, and Stirrup kay, Bahamas. How beautiful this ship is and the Staff is awesome! 4200 people, not including Staff, and found only 2 rude staff people. The Captain was wonderful ,coming to deck 14 and mingling with the people :) Taking pictures.You made a statement at the Michael Jackson Tribute that really was true. There were 53 different languages on this ship, no arguing or fighting everybody always smiling. If all of us could get along this well, why cant the rest of the world???
The Hotel Manager was awesome as well!! :) Our Cabin guy was truly amazing! Thank you so so much Kadec!! You made our stay wonderful! Balcony room ...10071 and 10053. He was in our room all day picking up and making sure everything was perfect!
Now as for Deck 14, OMG we were there all the time we were on the ship and not ported. The pools and hotubs and the spa no words can say what a beauitful experience this cruise was. Luis Rabarozzi You my dear are one of the sweetest guys We all fell in love with you!! This guy busted his tail waiting on us ,which started out as 4 and wound up being about 15 everynight! Always had a smile and he missed us when we werent all there lol Deck 14 was smoking on one side and non on the other. It's nice to know that this ship caters to smokers as well as non. Sooo relaxing and beautiful to be able to sit and just enjoy the Divina! The buffet is awesome They have all different foods as well as a lot of American food. If u walk away hugry that would be your own fault! The dining rooms were exquisite!! Cigar bar and the piano bar and if u can hit this ship you will be in awe of the Crystal staircase omg unbelievably beautiful! I wish i were still on this ship The people we met will be in my heart forever!! Great Ship, Great Staff, Great food and Great new friends Thank you for the beautiful experience and God willing I will see u again!! Susan