January 2014 - Crown Princess to Caribbean - Southern
Cleanest ship we've ever been on!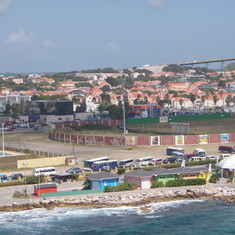 Just returned from a Southern Carribean crise to Aruba and Curasao. The ship is beautiful and the cleanest ship we have ever been on. Staff was great, never walked past you without a hello, good morning, etc. always saying thank you and smiling. Food was good, not 5 star, maybe 3 1/2. Always cleaning, never saw dirty dishes in the cabin hallways, and they had a staff person stationed at each food venue insisting, most politely, that you use the hand sanitizer provided there before you were allowed to enter. No virus on this ship though I see there are 2 ships this week with Norovirus, yuck! Ths clientele on Princess are older, this line is not for young families, must be 50 or older to fit in with the 70 somethings and they are pro cruisers, about 800 guests were doing two week back to back cruises.