November 2013 - 13 Night Transatlantic Westbound (Southampton to San Juan) Cruise on Adventure of the Seas
Trans-Atlantic Cruising is perfect for me!!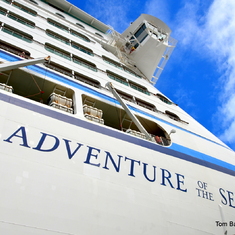 This was my second Trans-Atlantic cruise and it was awesome. My first Trans-Atlantic was taken last year from Rome to Galveston, Texas. It too was on RCCL and was a great trip. I think I am hooked now and will plan to do as many of these as I can... Both of my trips have sailed from East to West, and I think this is the best choice for me.. I like sailing towards home.. Fly over the pond, recoup on the ship for a day or so, then relax going home. 
Speaking of traveling to the ship, I almost always travel to the departure town at least one night ahead of time, and sometimes several several nights, so as to be sure I have my luggage with me when I get on the ship. There is almost always people who get on the ship without their luggge. Last year, I met several people who did the crossing with only a change of clothes, due to their luggage not arriving at the ship. This year, 15 people did not have their luggage when we left Engand. That said, all the luggage was found and flown to Funchal, where it was delivered to the passengers, some 3 or 4 days after we left England. For this trip, the travel agents and the cruiseline just could not seem to make it work out for me to arrive several nights early and then get on the ship. There were transfer issues, etc.. I flew to London and then was transfered to Southampton, the same day. In places like San Juan, the airport, the hotels, and the cruise ship are in the same town, so arriving a few days early is easy, but in places like Rome and London, where the international airport and the cruise port are far apart, arriving ahead of time can be a challenge.. For this trip, I agreed to do a "just in time" delivery of me and my luggage to the ship.. It worked. I left home on the 3rd, flew all day and all night, then caught up with my luggage in London, gave it to the bus people, rode the bus to the ship, got on the ship, and off we went!!! But, then my luggage did not arrive at my room.. Panic set in... Late that night, as we sailed towards home, the crew of the ship finally found my luggage, it had been delivered to the wrong location in the ship!!!!!! Now, with luggage secured, I was good to sail....
So, what can I tell you about this cruise that would be of great interest to the readers? Hard to say, as most of the people I met on the ship were experienced cruisers with as many cruises under their belt as me, if not more... So, it would seem these long cruises are full of people who have cruised before.. That said, there is little I can tell them about doing a pond crossing, But, to the experienced cruisers and the new ones coming on, this Trans-Atlantic cruising is great fun, if you have the time for it. And, for the newbies who think these cruises might get boring, it is far from boring. At least for we old cruisers. On this trip, and the one I took before, there were so much to do that I could not do it all. I actually had to make choices of which event to attend and which event to miss... Sometimes that was difficult!!! The cruiseline did a great job of keeping people busy doing something. And, on this cruise, I experienced something new that I think all ships to all places should have, and that is "Solo Traveler Lunches". This the first time I have seen this done and it was great. Ii was an organized lunch that took place every-other day while we were at sea. Was awesome. For those of us who were traveling solo, it gave us a chance to meet other solo travelers almost as soon as we were on board, which gave us a wide range of new friends to share the cruise with for the duragion of the cruise. Ii was just awesome. I made several new friends this way, which most likely would not have happened if it had not been for the lunch program!! I loved it!!!!!!!!!!!!!! I wish it had been offered every day instead of every other day.
On this trip, like all the RCCL trips I have been on, the entertainment, the food, the ship, the service people, etc, were all very good. It is amazing they can do so well with the food and entertainment on such long trips. I would like to add that the food on this trip was improved over the earlier trips I have been on. RCCL was slipping a bit when it came to food quality, on earlier trips, and people complained a lot!!!!!!!!!!!!! Now, it seems they have found ways to bring back some of the quality that was there years ago. That said, most all, if not all the ships I have been on lately, no longer serve the outstanding food like in the old days when I started crusing. Back then, the food was awesome, but not anymore. That is all gone. There is some good food available on the ships, but you have to go to special dining places to get it and there is an upcharge to get it. On this cruise, the upcharge was 55 dollars per person to have a really good meal, and  it was italian food. Some ships have other options. 
Over all, it was a great cruise, on a great ship. I have now been on this ship four times, I think. I like it. It is actually almost too big, and now the company is making the ships even bigger.. I do not approve of this. They are now like floating cities or floating islands. I go on cruises to get away from such things, so to speak. I like water, I like to feel like I am on the water, I like to see the water, etc, etc.. With the huge ships, you would not know you were on the ocean. The walk from the front of the ship to the back is nearly a quarter of a mile. Exercise it good, but when your rooom is on the front of the ship and your dining room is on the back, you have a long way to trek in dress clothes to go eat!!!!!!!!! So, I would like for the cruiselines to make smaller ships, not larger!!! But, I guess they have done the math and they know where the money is!!!
Would I recommend this ship and this cruiseline?? YES... The TransAtlantic trips are great fun, and RCCL is a great company to do the trips with, so do it if you have the time. 
Tom, 62 year old male solo cruiser. This November 2013 trip was my second TransAtlantic cruise. My total cruises is now somewhere over 40, but I have lost count.