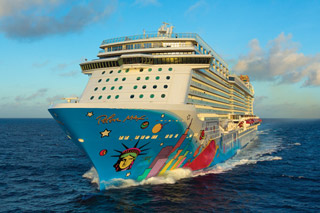 Norwegian Breakaway
Sail Date: February 09, 2014
I love Norwegian because I get to do what I want pretty much when I want.  We have not been Norwegian since 2010, when we took the Epic.  The Breakaway is a smaller version of the Epic with a better bathroom!  The decor was beautiful and the rooms standard for Norwegian.  The balcony was ridiculously small and should they choose to do that again, they may as well make the room an oceanview with a window that can be opened.  The hallway was narrower than usual, but it was never an issue for us.
The food was the same as any other mid class cruise line, i.e. Royal, Carnival; however, half the wait staff is still in training. Almost all of them are courteous, but some are in training and they are not as fluent in English as they could be.  They were always teamed with a more experienced person so the misteps were not that prevalent.  We only had to wait once for about 10 minutes to be seated at the most dersirable 7 to 7:30 timeframe.  We learned to come at a different time and were able to be seated immediately.  When asked by two of the managers who visited our table at a Specialty restaurant if we had any feedback, we said that the orange juice and coffee were usually weak. They must have discussed that with the staff because we never got watered down oj or coffee ever again in any venue.  Now that's service.
We did not do the rope course but the water park was awesome and on our cruise, fairly empty.  It was fun for me and my husband (we are in our 60's) and great for the children, which were few in number.  We paid extra for the Spiegel Tent (Cirque to Soleil knock-off).  It was very nice and the dinner everyone complains about was fine.   We had no problems booking any venue and have become accustomed to doing this.    
We came to the port around 1 PM and were on the boat within 20 minutes and went straight to our room.  Embarkation was a breeze as we opted to walk off on our own.  Debarkation for walkoffs began at 7:30, which was great.
I am sure that some of the negative comments from others were valid, but with a full ship, a small number of well behaved children,  we encountered very few problems.  Other than them destroying one of my suitcases, which they replaced with a new one that does not match our set, the trip was pretty much all we expected and reminded us why we love Norwegian.