July 2016 - 13 Night Ultimate Scandinavia & Russia (Stockholm To Copenhagen) Cruise on Serenade of the Seas
My 82-year-old mom loved it! Good Internet service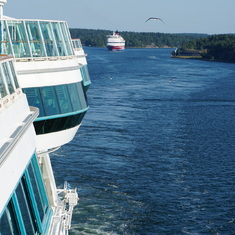 Roaming around the Baltic Sea is much more interesting than simply parking oneself in St. Petersburg and hitting the museums. It was a good opportunity to see how the countries interrelate. The shore excursions arranged by Royal Caribbean were excellent with very informative guides. If you want to see and do everything in St. Petersburg, however, you should arrange a private tour ahead of time that leaves the ship at 7 am each morning and returns at 11 pm. Royal Caribbean's excursions try to get back to the ship (a 20-minute drive from the city center) by 5:30 pm so that people can change and then go back out for an evening event if desired.
Royal Caribbean apparently leads the industry in Internet service. I measured 3 Mbits down and 2 Mbits up consistently for their Voom service (about $15/day depending on the number of devices connected). This makes it practical to work from the ship using Google Docs, Dropbox, etc. I uploaded about 30 GB of photos and videos using Voom. Streaming from Netflix worked well.
We didn't take any children but the ones that we saw were having a great time exploring the ship and looked only slightly bored on the cultural shore excursions.
Food? If you're trying to kick the bread habit, this is the place to do it. They bake everything from scratch every morning and yet somehow the donuts and croissants didn't work out at all. We stopped eating bread after a few days and consequently didn't gain any weight. Food safety is the #1 priority and we didn't get sick nor hear of anyone who got sick. The price that you pay for perfect safety is that you're not going to get spectacular and unexpected tastes.
Alcohol? I didn't see anyone staggering around drunkenly. People did seem to be enjoying the bars. I refrained from buying the unlimited drinks package and limited myself to one or two glasses of wine per day ($8-14 for regular wine; only about $6 for a Graham's port with dessert, plus 18% gratuity). For any given wine, the prices were comparable to what we would pay at a hotel here in Boston.
I'm not a coffee snob, but the regular drip coffee was pretty week. I guess it is comparable to what would happen if you bought Maxwell House at the supermarket and ran it through a Mr. Coffee. There were some on-board espresso bars (prices similar to a Starbucks) but there didn't seem to be a Dunkin' Donuts equivalent with slightly stronger drip coffee.
Staff are friendly and obviously competent. We never waited in a line for more than about 5 minutes. I.e., they manage to get 2400 passengers plus some crew back on the ship before sailing, putting everyone through a metal detector and all bags through an X-ray, without making people wait. The gym is fantastic with a great view towards the bow from Deck 12. It was never crowded. I got a great haircut for about the same price as I would pay in downtown Boston ($25; thanks, Annie!).
The ship was 13 years old at the time of our sailing and was in perfect condition. I wish these guys would come over and maintain our house.
The on-board entertainers were great. The band, mostly Eastern Europeans, could have played in any Broadway theater. I wished that they had done some longer performances, e.g., a full Broadway show or play instead of one hour of excerpts. The theater itself is an impressive facility that, again, rivals anything you'd find in a big American city. The cinema is kind of weak. It doesn't look like a 4K projector and the lenticular screen impairs resolution.
The itinerary is well-designed. Three days in St. Petersburg is kind of the minimum. Fredericia, Denmark is not a place a typical tourist would go and Royal Caribbean uses it mostly as a launching point for shore excursions, e.g., to LEGOLAND. However, I enjoyed the fact that the folks in this small town were delighted by our visit and turned out as volunteers, to park their classic cars, to dance and play in bands, etc. It was a good reminder of what it would be like to visit on a ship in the 18th century. I would have liked to stop in Poland at least briefly instead of having the "at sea" day from Lithuania to northern Germany. Alternatively I would have preferred to stop in Hamburg instead of a port that is a 3.5-hour bus ride away from Berlin (we did a local shore excursion instead; Warnemunde would be a great town if the weather had been sunny, which it wasn't). Stopping at all three of Estonia, Latvia, and Lithuania was wonderful and educational.
Our basic oceanview cabin was larger and much more usefully organized and equipped than our hotel room in Paris. That said, given that my mom could do only one activity per day and there aren't a lot of quiet indoor spaces on the ship (no library or reading room, for example), it would have made more sense to get a suite. We spent more time in the room than originally planned.
My mom suffered a minor medical issue at one point and visited the on-board clinic and was favorable impressed.
It was a great experience overall and Royal Caribbean puts together a pretty amazing floating city at a reasonable price.