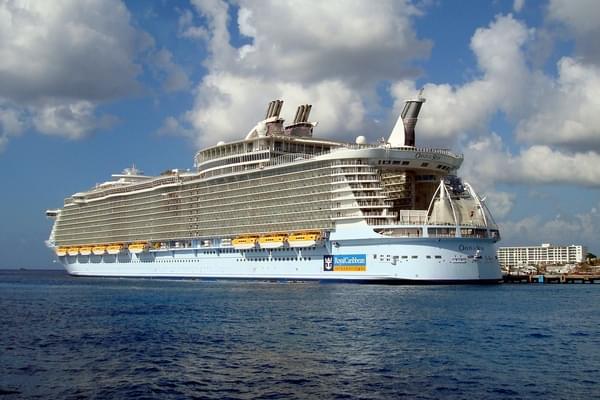 February 2016 - 7 Night Eastern Caribbean (Ft. Lauderdale Roundtrip) Cruise on Oasis of the Seas
Fantastic Getaway, Excellent Food and Care all the way!
This is the second time we have cruised on this ship; the first was a Western Caribbean cruise 2 years ago.  We loved this ship and it's offerings so much that we wanted to cruise on it again - albeit with a different itinerary.  Here's our detailed experience:
1.  Cabin Steward (Babu):  Great young man with an attitude like no other.  He was happy to help us, answered our questions, pointed us in the right direction several times (ok, it's a really BIG SHIP!!  ;-) ), and had our suite made up every time we left without our knowing he had been there.  We loved Babu!
2.  Food: There is a LOT of food on this ship. Except for one restaurant, the food was exceptional!  I would say the food experiences went in this order, best experience first:  A. 150 Restaurant in Central Park.  Absolutely first class in every single way.  Our Waitress / Host was a lovely woman from Trinidad, who was so sweet and fun... and made sure to carry our wine pairing "opinions" back to the chef, because he kept asking her for them!  The courses were so exquisite... B.  The Windjammer Restaurant/Buffet.  We ate most of our meals here, and the food was far above the quality you would expect from a buffet-type restaurant.  It's second place in my book, because of the consistently excellent quality of both food and service, day after day.  C.  Chop House in Central Park.  Another excellent restaurant.  We had a very good experience here, but it simply didn't compare to 150.  The wait staff was very good.  The food was great.  Desserts were awesome.   C.  Solarium Bistro.  The food here is always incredible, as is the wait staff. You can't beat the view, especially, and when we wanted a light-hearted meal out, this was the restaurant.  I would actually pick this over the Chop House now that I think about it, but I have all this written already...   D. Honorable Mention:  Coastal Kitchen (a Suites-only restaurant).  You would think that when serving suite-only guests, they would have this restaurant at the top of every single priority list.  Yeah... not so much.  As of our departure on 2/13/16, i would tell you to not bother with this one.  The service was absolutely terrible.  25 minutes for a mediterranean flatbread? 21 minutes for drink refills?  Unacceptable in my opinion.  Just not worth the bother of riding the elevator to the 17th floor, unless you want to sit at the bar and watch the sun set.  E. Also for honorable mention:  Johnny Rockets on the Boardwalk.  The wait staff was ok.  The food was heavy and greasy, and it ended up being the only meal we at that day.  Yuk.  Not going back there at all.  Actually we didn't finish our meal there because it was so heavy and greasy.  The malts, however were first class i must say.  F.  Room Service:  Unless you are ordering coffee, fruit trays or juice, DO NOT BOTHER! The room service food was simply and without exaggeration the worst room service food I have ever not eaten!  Gelatinous scrambled eggs.  Toast (I kid you not) I could not bite!  Nasty all around. 
3.  Shopping:  You can shop on board and off board on this cruise.  A word to the wise:  if you are shopping off board at any port, make sure to attend the shopping presentations on the Promenade deck prior to departure (usually the day before).  They have really good information for you, which will keep you from being hood winked and ripped off!  Lots of fun shopping in the ports though!  Also, the gift shops on board had nice things for the kids and grandkids, etc.
4.  Relaxation:  This is the place to relax!  On our balcony... On Deck... at Starbucks on the Promenade deck... Along the walking track at the back of the ship... there were places all over you could relax and kick back and watch the days, weather and water go by.  we had 3 sea days on this trip, which provided us a LOT of time to rejuvenate ourselves.
5.  The Vitality Spa and Gym:  First Class gym... awesome equipment, superb spa personnel, super huge running track on deck 5... ti's all there.  This ship is huge, as I have already said.. and 2.4 laps on the running track is a mile.  It used to be 4 laps around the track in high school was a mile.. so this gives you an idea how big this place is!  While on board, i wanted to spend a little uninterrupted time with a Personal Trainer, since work doesn't allow me that much disconnect from life to do personal training one-on-one, so I scheduled some time with a former Professional Athlete from Romania, Robert Mihai.  Fantastic guy.  Fantastic athlete.  Compassionate, conversational, and an incredible teacher when personal training. I wish he was in my gym at home. I would hire him often!
I hope that helps give you an idea if you are going on this ship...