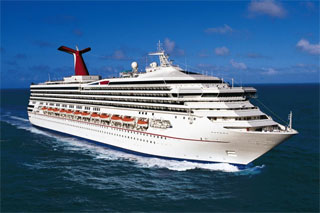 December 2014 - 5 Night Western Caribbean (Galveston Roundtrip) Cruise on Carnival Triumph
Exceeded expectations
I was a bit nervous booking the infamous Carnival Triumph for our New Year's cruise. It was my second Carnival cruise, having gone on the Magic just a couple years back. Not going to lie, the Magic is a much more impressive boat, but the Triumph is not far off. I missed some of the dining selections on the Magic, but my wife and I found that paying a little extra in the normal dining for "steakhouse selections" actually seemed a better value sometimes than actually eating in the steak house itself due to the noticeable cost difference.
The rooms are much more generous in their space, and the lights and power don't turn off automatically. The TVs are old and kind of suck. I also found myself looking for signs of damage from their infamous disaster, but I was left wanting.
Carnival does not have really any externally recognizable brand recognition in their entertainment, but the shows are entertaining if you decide to pop in. I always love the stand-up comedy.
Progresso was a nice surprise. The public beach is great if a little crowded, but there is a lot to do there without doing one of the many Mayan excursions. I don't think paying for one of the exclusive resorts is good value either because there were so many wonderful choices at the public beach. It was a simple bus ride and short walk. We were able to ride some wave runners and have some wonderful food for about $60 from just what we found there in like 10 minutes.
Cozumel is the same as always. We did the dolphin encounter. It was great except their food is somewhat wanting. They have all sorts of bonus activities there. They super gouge you on pictures, however. Have your observer take pictures from far away if you have one.
We were sad to leave when we returned to Galveston. All in all it was a great time.