August 2016 - 7 Night Bahamas & Florida (New York Roundtrip) Cruise on Norwegian Gem
First time cruise - Perfect vacation 8/6-8/13/2016 on NCL Gem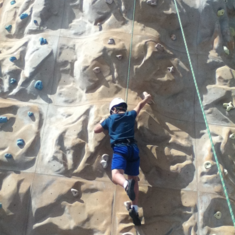 This was our first cruise ever. Our favourite part of the cruise was the 7pm shows at the Stardust Theatre. My children looks forward to it everyday. It would be nice if movies are shown at the Stardust theatre instead of the Atrium. Atrium can become noisy with the bar nearby.
Breakfast, lunch and dinner at the Grand Pacific dining room are always great. The place is gorgeous and the food are always delicious. We did not venture to the buffets because with the amount of food we eat at the GP, there is just no room left in the belly. Orchid Garden Chinese food is also good. Embarrased to say but we had breakfast at GP, Lunch at GP, Appetizer at 5:30pm at OG , 7pm show and then head to GP after the show for dinner. Reservation to dinners are required so plan ahead. Hold off paying for extra at specialty restaurant - the complimentary are just as good. Save those for other days AFTER the cruise. Kids had no soda for 7 days - Yay !
The excursions was nice but many are sold out fast. We had wanted to do parasailing but fully sold out on both Great Stirrup Cay and Nassau Bahamas. We explore Nassau Bahamas ourselves - turns out the $8 ferry took us to Paradise Island and we walk to the beach from there. Pretty easy even with young children in tow.
Rock Climbing twice daily is great - kept the kids busy.
Pool unfortunately is too small, too cramped and it is unfortunately too many incidents of cruisers leaving their towels on lounge chairs - letting it sit unoccupied for several hours preventing others from using the lounge chairs. Staff on deck should enforce some kind of rules reg this.
We have new found respect for staff on cruises - they work on contracts. Some lived on ships for as long as 1 year - I hope the mental well being of staff are never overlooked and that they are well cared for. Most does look genuinely happy to be onboard.
Bring first aid kit, bring sunscreen. And please, use the sunscreen. Sun is strong on deck, in FL and the Bahamas !!!