June 2014 - Celebrity Reflection to Europe - Mediterranean
Celebrity Reflection: The Best Vacation Experience!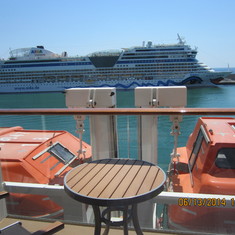 Bravo!! The Celebrity Reflection 10 Night Eastern Mediterranean Cruise was one of the best ever. The itinerary and shore experiences, from a cultural, historical, and aesthetically scenic aspect are not to be missed. For those who are frequent cruisers, you will find that this experience is different in the best way. The captain and crew take a personal interest in EVERYONE. Besides the newness of the ship itself with many upscale restaurants, clubs, and bars, there is a lively and cheerful atmosphere and appropriate activities which appeal to people of all ages and cultures. Cruise Director, Alex, is commended for assembling top quality shows and entertainment. Vocalist, Dante Sterling, Big Mike, musicians, singers, and dancers are comparable to performers on Broadway. Our Cabin Attendant, Primo, is the best ever. The Opus Dining Room wait staff was first class. Excellent ratings go to Namik, Melenia, Jasminka, and Limo.