September 2016 - Celebrity Silhouette to Europe - Mediterranean
Another Good Experience on Celebrity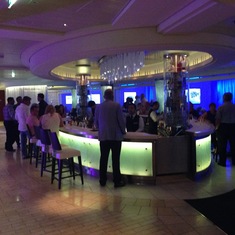 Celebrity Silhouette
September 24-October 8, 2016
150Day/14-Night Mediterranean Cruise
Concierge Class
Review by Lan Sluder
Overview:  Our two-week Mediterranean cruise on the Celebrity Silhouette from Rome generally was another good experience for us with Celebrity, although there were a few glitches and weak spots.
About Us: We are a couple over 60 from Asheville, North Carolina. I am a former newspaper editor and currently am a writer who has authored more than 20 books on travel, retirement and other subjects. My wife is an attorney. We are occasional cruisers, having been on a total of seven or eight cruises over the years. This is my third Celebrity cruise, my wife's second. We also have been on Royal Caribbean, Silver Sea, Norwegian and other lines.
Itinerary:  Rome (Civitavecchia); Naples; 2 sea days; Tel Aviv/Jerusalem (Ashdod), Israel for 2 nights; Haifa, Israel; sea day; Santorini, Greece; Ephesus (Kusadasi), Turkey; Athens (Piraeus), Greece; sea day; Malta; sea day; Rome (Civitavecchia).
The Ship: Silhouette is a Solstice-class ship, the fourth of five ships in this class delivered to Celebrity. It made its maiden voyage in late 2011.The Silhouette is 1,047 feet in length (about one-fifth of a mile) and can carry almost 2,900 passengers with a crew of 1,500.  The captain and many senior officers are Greek, and the crew serving passengers is predominantly from Eastern Europe, South Asia, Southeast Asia and South America.  
The ship is due to be dry-docked later this year for refurbishment. While Celebrity maintains all its ships extraordinarily well, and the Silhouette still looks good, it no longer has that "new ship" feel. If you look closely, you may see a little wear and tear around the edges, mostly in small things such as tiny holes in cabin curtains, thin, worn towels or perhaps a chair that had held a lot of behinds.
Getting to and from the Port: This cruise is billed as departing and arriving from Rome. However, Rome's seaport is Civitavecchia, a town of little visitor interest about 50 miles northwest of Rome. From Rome to Civitavecchia is about 1½ to 2 hours by road, depending on traffic. Celebrity provides transfers to and from Rome to Civitavecchia at a cost of US$75 per person each way. We spent three nights in Rome before the cruise at the Rome Cavalieri Waldorf Astoria (excellent!) and so took a taxi on our own from the hotel to the port. The taxi fare was 155 euros, so we didn't save any money, and as the taxi driver turned out not to be very familiar with the port we were dropped at the wrong place and had to take two shuttles (free) to the ship. On our return we used Celebrity's shuttle service, a comfortable 40-seat bus with a helpful Celebrity staffer acting as a guide. We were staying additional days in Rome after the cruise at the Hotel Indigo Rome-St. George (also excellent, with a great location), so we got off the bus at the Roma Ostiense train station where our Celebrity guide got a taxi for us. I recommend using the Celebrity service for transfers.
Embarkation and Disembarkation: Except for the goof in being dropped at the wrong place by our taxi driver, embarkation was fairly quick and easy. At a little after noon, there was a short line, but it took only a few minutes to leave our luggage and board the ship, where the Oceanview Café was serving lunch. Two weeks later, disembarkation was also easy and painless. The only negative was that all passengers had to be out of their cabins early, by 7 am. We joined other Concierge class passengers waiting in the Tuscan Grill (coffee and pastries were available) until a little after 9 am, when we moved quickly to the waiting bus. We were among the last passengers off the ship, as we did not have a same-day flight out of Rome. Overall, embarkation/disembarkation on this cruise was a breeze, compared to our last Celebrity cruise from West Palm Beach, where there were huge crowds coming and going.
Our Cabin: We were in cabin 1025 on Deck 10, Sky Deck. This Concierge-level cabin is far forward and perhaps 150 feet from the forward elevators. This would not be our top choice for Concierge class accommodations – we like being closer to the elevators and more amidships – but it was what was available at our price point and was fine. Our cabin was pretty much a standard Solstice-class room, with veranda, a queen bed (next to the veranda, a configuration we prefer), sofa and small bathroom with a shower, no tub. There was plenty of closet space and storage. The cabin was in very good condition, although it has seen a lot of guests since the Silhouette was launched in 2011.
We were not always completely happy with our room steward. It was mostly small things, such as failing to bring our laundry back in a timely way, forgetting to serve us canapés or sparkling wine as requested or accidentally leaving our door open.  At one point, our regular steward was replaced by someone else, so there may have been something going on with this particular person. It was no big deal, but it was a contrast to the excellent room stewards we have almost always had on previous cruises.
Passenger Profile: Anecdotally, I'd say the typical passenger on this two-week cruise was early 60s in age, retired, moderately affluent and an experienced cruiser who has been on Celebrity ships before.  Some outliers were in their 30s and 40s, and a few in their 20s. There were a small number of families traveling with children. Probably a little more than one-half of the passengers were from the U.S., with lots of Brits and people from Western Europe, some from Canada and Australia, and a mix of others including Chinese, Indians and South Americans.
Weather:  September-October is an ideal time for a Mediterranean cruise. You miss the hot summer weather and cold or rainy winter weather. All of our sea days and shore stops had excellent weather. It was sunny, with no rain except one or two brief showers, and daytime temps were generally in the low 70s F/22-23 C.
Dining:  We had most of our dinners in the main dining room, Grand Cuvée. On this cruise we chose not to spring for the specialty dining. We ate at most of the same specialty restaurants on a previous cruise on the Equinox, and while the restaurants offer a nice change of pace, especially on longer cruises, but we did not find them exceptional. Other passengers said they especially liked the Tuscan Grill, but I don't like to pay extra for the restaurant and then have to pay another surcharge to order a steak. For that money, I could eat a great steak at Ruth's Chris!
We found the food at Grand Cuvée good but not excellent. We always enjoy the classics such as escargot, Caesar salad and crème brûlée. However, some other dishes were disappointing. That especially goes for the beef, except for the prime rib, which was delicious and perfectly prepared -- I had it on two nights. Dining room service, as expected on Celebrity, was superb. We had "Celebrity Select" dining, which means you can come to the main restaurant at any time from 5:45 to 9:30. On two or three nights, we had to wait 10 or 15 minutes (the maître d' gives you a pager), but that was no problem.
We usually had a light lunch at the Oceanview Café and on a number of mornings had breakfast there. This venue was often quite busy, but the food was plentiful and pretty good at lunch and at breakfast. We ate dinner there one night, and it was a dismal, depressing experience.
On our last Celebrity cruise a couple of years ago, to Central and northern South America, we enjoyed having breakfast on the veranda of our cabin. On this trip, though, room service breakfasts were hit and miss. On several days, our orders were totally mixed up (a telephone discussion with a room service manager fixed this issue). Sometimes the food wasn't as hot as it should be. In every case the breakfast pastries and breads were of poor quality. The Silhouette needs to improve its pastry department. Someone needs to tell the pastry chef that croissants are supposed to be flaky!
I finally decided on the Café al Bacio for my breakfasts. I usually had cappuccino or caffè latte -- specialty coffees here were around US$5 but they were included in our beverage package -- and a donut. The ship served Lavazza coffee exclusively. Lavazza is a large Italian coffee company. It's not bad, but it doesn't match the coffees you get at specialty coffee shops in the U.S. or Europe. I'd like to see Celebrity raise the bar on its coffee service.
On several days I enjoyed an afternoon cheeseburger, fries and a Peroni Nastro Azzurro at the Mast Grill near the outdoor pool. Killer fries!
Bars: We got the Classic beverage package when we booked with "Pick Two" (our other pick was included gratuities, though we tipped our room steward, maître d' and bartenders a little extra) and upgraded to the Premium beverage package. This is a small extravagance, and, yes, it does encourage you to drink more, but it's nice to be able to get almost any cocktail without paying extra or being told you can't get the martini you want. Celebrity's policy on this seems to vary. At some bars we saw other passengers without a Premium package being told they could pay the difference for the upgraded cocktail, but at other bars Classic beverage package guests couldn't get any specialty drink without paying the full US$13 or whatever the price. With the Premium package, you get all the Classic package brands plus premium brands such as Grey Goose vodka, Bombay Sapphire gin and Johnny Walker Black Scotch. The premium package also gets you unlimited soft drinks, water and specialty coffees (but only one at a time).  It covers most wines by the glass. There are a few super premium liquors and expensive wines that aren't included with the Premium package.  It does get to be a nuisance to have to show your card every time you want to order a drink. On a Silver Sea Alaska cruise last summer, we enjoyed having drinks without having to show a card or sign a chit. I predict that eventually lines like Celebrity will go to an all-inclusive system for drinks.
My favorite bar remains the Martini Bar, or Ice Bar as I always call it, on Deck 4 near the Grand Cuvée. The bartenders are friendly, the drinks are strong, and I enjoy the ice shelf around the bar and watching the bartenders juggle bottles and drinks. On the other hand, my wife loved the World Class Bar, which replaced the Molecular Bar on Deck 5. The bartenders at the World Class Bar (that's a terrible name for it, by the way) are skilled, and the drinks are interesting and creative. I also enjoyed the Passport Bar on Deck 3, near the service desks. It was always quiet and a good place to sip a G&T and read a book.  The Sky Bar, far forward on Deck 14, ought to be a good concept, with views of the sea over the bow of the ship, but it didn't cut it for me. It was often closed for private functions and when it opened in the evening it was too dark to see the sea.
Shore Excursions:  We used Celebrity's shore excursions in Naples, Tel Aviv/Jerusalem, Ephesus, Santorini and Athens. We did Valletta, Malta, on our own and did not get off the ship at Haifa, Israel, as we were tired out by long, strenuous excursions on two previous days. Celebrity's contract tour company guides were all very good – friendly, knowledgeable and professional. However, all of the tours suffered from the usual disadvantages of many cruise tours – they try to pack in too much in too brief a time, and they often require you to spend time at their "preferred" shops. Enough, already! When are cruise lines going to realize that many passengers don't want to shop for jewelry or Turkish carpets?!
Our favorite ship's excursions were probably a 5½-hour tour of Jaffa and Tel Aviv ($116 per person) and a 10-hour tour of Jerusalem and Bethlehem ($130 per person). The ship's excursion we liked least was a four-hour tour of Athens and Plaka ($60 per person). If we go on another Celebrity cruise, which we probably will, especially if Celebrity introduces a new ship or two, we'll do fewer Celebrity excursions and do more on our own.
Entertainment:  We went to a few shows in the Silhouette theater.  I don't expect much from cruise ship entertainment, and my expectations were met on Silhouette.
Internet: I bought the Accelerate internet package for one person (around US$250 after discounts, as I recall), which permits unlimited internet usage via satellite for any number of devices (laptop, smartphone, tablet, etc.) but only one at a time. I was pleased with this package. Speed was fast enough to stream Netflix.
Cruise Cost:  We paid slightly over US$4,000 for the Concierge class sailing for the two of us. This included a Classic beverage package and shipboard gratuities for each of us. With upgrade to Premium beverage packages, internet service, shore excursions, laundry, additional tips and miscellaneous, our total cost for the 14-night/15-day cruise was about US$5,800. That doesn't include airfare from Charlotte, NC, to Rome (we used American Airlines frequent flier miles to book business class air) or hotels in Rome and London before and after the cruise (four of the six nights were booked with Hilton and IHG frequent stayer miles).
Hits and Misses: Here is what we liked about this Celebrity cruise and what didn't quite meet our expectations.
HITS:
• Value:  We feel this 14-night cruise offered excellent value for our money. The Concierge level cruise cost about $430 a night total for the two of us, including everything from food to booze to laundry to tours to tips. We'd pay that much or more just for a four-star hotel room in a major European city.
• Celebrity Staffers: Celebrity does a great job with its employee training. Virtually every Celebrity officer, crewmember or hospitality employee we encountered had a smile, a friendly greeting and tried to be helpful.
• Ports: This cruise offered a good mix of ports. Our favorite stops were Ashdod for Tel Aviv and Jerusalem and Santorini, Greece.
• Bars: We loved the World Class Bar and Martini Bar. Yahoo!
MISSES:
• Dining: Dining on Silhouette was fine. It just wasn't exceptional. Perhaps if we had opted for the specialty restaurants for four or five nights we would have had a better overall experience.
• In-Room Breakfasts: We love having breakfast on the verandah in our cabin. Unfortunately, Celebrity fell short on this cruise, with mixed-up orders, occasionally cold eggs and poor pastries.
• Entertainment: Mediocre at best. The "mentalist" was awful.
Would We Cruise Celebrity Again? Yes. After this cruise, we'll be Captain's Club Select, which offers a few extra benefits. However, before booking Celebrity again we'll probably want to explore cruises with super premium lines that we haven't tried yet such as Regent Seven Seas and Azamara (Azamara is part of the Royal Caribbean/Celebrity family of cruise lines). We also likely will wait until Celebrity introduces the new "Edge class" ships, which are positioned as offering small ship itineraries with large ship amenities.