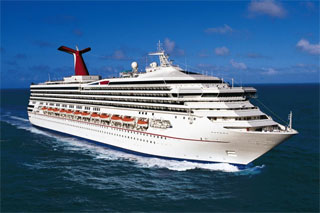 July 2016 - 5 Night Western Caribbean (New Orleans Roundtrip) Cruise on Carnival Triumph
Lower Your Expectations/But just a Little
Great- The Crew! Our steward and head waiter and MDR staff were amazing                      people.
Great- Our Balcony. It was so pleasant.
Great-Our bed. Comfy and I slept fairly well.
Great- The shows we attended. Magic Show, Burlesque Show and Comedian. All                Very excellent.  
Good- Drinks- They were plenty strong (we had CHEERS! package) but the bars                were understaffed at times and waiters were few and far between in some                areas.  
Good- Food. The food was mid-grade for the most part. Some was super. Some                  food was meh. Pizza Pirate...24 hour Pizza. Was Yuck! Don't bother. 
Bad- Exactly one outlet in the entire room (zero in the bathroom) Not even a double          outlet. One place to plug anything in. [=] .....Not [==]. Take adapters and                    extension cords. 
Bad- No Fridge in room. (no where to plug it in anyway=)
Bad-Nickel and Dime you constantly
Bad-The Muster Station Drill-Huge waste of time- I heard zero instructions on                   emergencies. July 9th in NOLA and Humidity was palatable. One lady had to           leave the drill, she could not catch her breath. They held us way too long. And         yes i know it is mandatory. 
Bad-The "Fun Finds Shopping Show". Huge sales pitch about Tanzanite and Diamonds International. We purchased a coupon book (only $25.00) due to the booklet having several coupons for free items that you get at shops in Cozumel.. Guess what??? You can get any of those same free items with no coupon book!! 
BAD- The whole Progresso Debacle. Everyone we spoke to, who worked for Carnival about the subject of the Port of Progresso told us it is a terrible place to go. The items for sale, the excursions, the "vendors". So why go there for a port day at all??