June 2014 - Disney Wonder to Alaska - Inside Passage
Disney is the way to go with teens.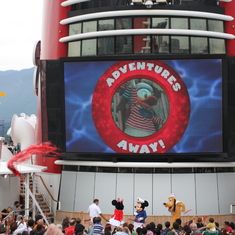 The Disney Cruise Line does a wonderful job of scheduling events so that you can choose any activity to participate throughout the day and you will have the opportunity to attend all of those activities! (if you are not too tired from all of yesterday's activities...and if you are. there are several places to relax also) The shows are awesome and the staff is very friendly and helpful. The food, well, lets put it this way...I gained 17 pounds on my trip which may not be a good game plan for everyone but I absolutely loved the food. Thank you to the chefs and the waiter staff. My children (13 and 15 years old) had more than enough activities to keep them busy all day and sometimes late into the night as they made many new friends from all over the world and are still in contact with many of their new friends today which I think is very cool!!! The only negative thing is the laundry room is small and the dryers take about twice as long as the wash machines. I would suggest to Disney to provide more dryers than wash machines or for you as a traveler to pick odd times to use the laundry service which I did the one late night and had no problems, but the last day early morning is not a good time to do laundry so plan accordingly when it comes to this.
The pager phones that are provided in the room is a great resource to be able to contact other members of your party and they are included with no additional charge in case you are concerned about communication issues with cell phone and internet plans.
Overall, it is a truly great experience (especially if you have eating fine cuisine listed as one of you hobbies) and if you have active teens they will love it!!! If you are considering, I would suggest that you do it because the memories created by you and the Disney Cruise Staff alone are worth the cost of the trip and the food...BONUS!!! Oh, I almost forgot to mention the fact that...
Alaska is a fantastic destination!!!