July 2016 - 4 Night Bahamas (Miami Roundtrip) Cruise on Norwegian Sky
FIRST CRUISE AND FIRST REVIEW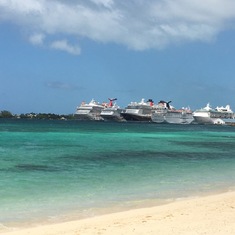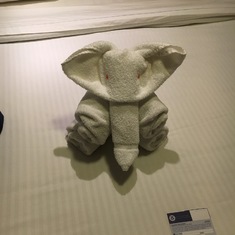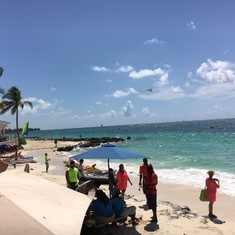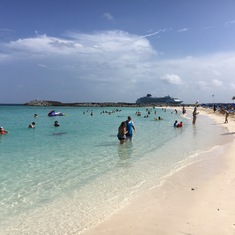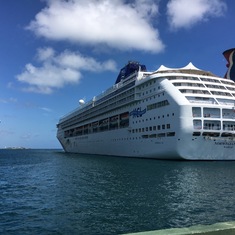 Hello there cruise community. My wife and I just got back from our first cruise together on the Norwegian Sky for 4 nights traveling to Nassau, Great Stirrup Cay and Freeport.
We booked this cruise because of the all inclusive drinks they were offering which in the end turned out to be a real saver for us and made it less stressful in the fact you weren't having to swip a card all the time when you ordered a drink.
The staff on board were all very friendly and wiling to help with any question except for one photographer who after we declined a photo
from him made a smart remark to us that we didn't want any evidence of us being together. Insinuating that we weren't there as a married couple and there under different reasons. I told him that we were happy married and he opoligised but the damage was already done.
The food on the ship was very nice. Just a few dishes could have used abit more seasoning. We never experienced any time waiting at the buffet or waiting for a table at the dining room.
We loved the fact that you wake up in a new port every day. I enjoyed Great Stirrup Cay the best. The water and the beach was amazing. They have a buffet area for lunch and the bars are open for alcoholic and non alcoholic drinks.
Nassau was beautiful as well. We did a shore exclusion. This included a one hour bus ride around the city and then a hour and a half at Ardastra Gardens. On the way back to the port we stopped at the beach for 10 minutes. If we do the cruise again we would just stay at the beach and town areas lol day. All of which is within walking distance of the boat. In fact you can see all the boats in the port from the beach area.
We stayed in a inside stateroom because of the fact you aren't in the room very much. It was a little tight but we expected that. If you pack light and don't have big bags you can manage. If we wanted to see the ocean and get some air we just went up deck to the Great Out Doors bar area.
The mid part of the ship deck was where the main pool and bar is. If you like the party and music atmosphere then this is the spot for you.
We spent most of our time at the rear of the ship were it was much quieter.
I had read other reviews saying that the SKY was showing its age. I didn't see this to be the case. Everything was clean and in working order.
All in all we had a wonderful time and would definelty book again with Norwegian and any of there ships.