April 2015 - 7 Night Eastern Caribbean (Galveston Roundtrip) Cruise on Carnival Magic
First cruise, best experience ever.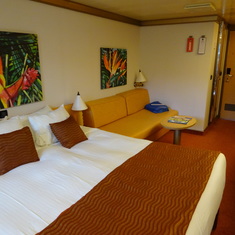 This was my first cruise, and i was really excited about it. i was with my wife and 3 yr old son. the best part about the cruise for me, as a parent of a 3 yr old, was the camp ocean day care service. it was open all day from morning to night and even paid service for late night from 10pm to 1pm. even on shore days we kept our son in the camp ocean, and we would do our excursions and come back, and he would still be playing. the cruise ship itself is fantastic. this ship is new (built 2011), and in very good condition. Being an Indian vegetarian, i had vegetarian meal options daily in the dinner menu, and it also had an indian restaurant "Tandoor" open during lunch. the food was very good too. the staff is also very nice and take all care of you.
I had some issues with the excursion that i had book, but that is a different story.
All in all, a great trip....!!!!... will surely go for another one.