June 2015 - Norwegian Dawn to Bermuda
Wonderful staff, terrible customer service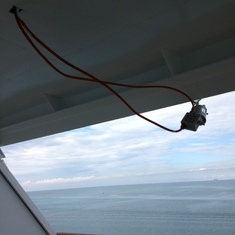 This was our second cruise on this same route on the Norwegian Dawn in three years. We had such a good time the first time that we booked the same cabin for our second cruise. We paid a hefty premium for an aft-facing penthouse suite with large balcony because we were more interested in spending time alone with each other in our suite and on our balcony than in the public areas.
The day before we got to Bermuda a letter was delivered to our suite explaining that maintenance would be done on our balcony, and asking us on which day we were planning to be away from our suite. We had purchased a shore excursion for the early afternoon on the day of our arrival, so we reported this to the concierge staff.
When we returned to our suite after the excursion we found workmen active on our balcony which was draped with a tarp. Much clanging and grinding. No balcony access for us and they left around 7 pm. Next day they were back working until the late afternoon. The following day they painted and "finished" in the afternoon leaving behind a balcony reeking of paint with an electrical fixture hanging from the ceiling (see photo).
We were not able to relax on our balcony without needing a clothespin on our nose to counteract the paint stench until the last day at sea. Even then I had to be careful not to hit my head on the dangling electrical fixture.
We were not notified of the scheduled maintenance when we booked our cruise, or at any time until the day before they started working.
The Concierge and management on the ship were very sympathetic, but explained that the work had been authorized by "Miami" and there was nothing they could do about it. They couldn't offer us a different suite because the ship was booked solid. They did credit our shipboard account $400, which was nice, but which was a drop in the bucket when you consider how much we paid for the cruise.
Otherwise, the cabin steward and our butler were first-rate, the Concierge was very helpful, and the hostess at the Venetian Restaurant went above and beyond so we could get nice tables for two by the windows.
Next time we go to Bermuda we'll take Jet Blue and stay somewhere ashore.