June 2015 - 14 Night Italian Mediterranean (Southampton Roundtrip) Cruise on Anthem of the Seas
First Cruise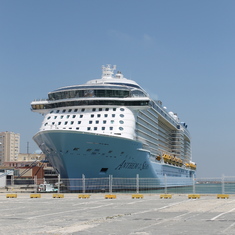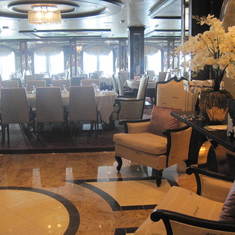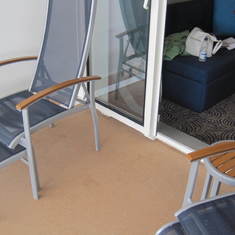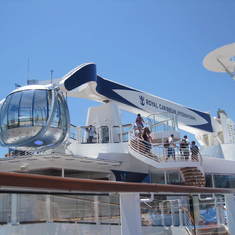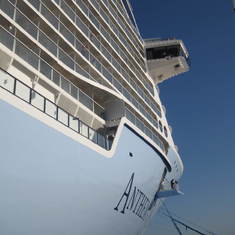 ANTHEM OF THE SEAS – ROYAL CARIBBEAN
Seeing the ship for the first time as we got to gat 8 at Southampton was a real WOW – at the sheer size of her! Despite the grey skies!
Getting on board was fairly straight forward process and we had our first glasses of Prosecco as we boarded. Made our way to our room and the first disappointment was seeing a double bed instead of Twin beds which is what we booked. Then there was only ONE bathrobe – not two. I rang Guest Services a total of 3 times in about 4 or 5 hours. One of the drawers was dusty and not been cleaned. There was also a pot of fruit which i thought was complimentary but appears someone had left it! OH DEAR!
We unpacked and went to dinner and when we got back it had been sorted – finally!
The Air Con on the ship was too cold and many people said the same. SO much so that I got a bad cold and Nina got bronchitis!
There were no coffee making facilities in the room – only tea. The mini bar had nothing in it for two days and when they did stock it – it was not free not even the water despite having taken out a drink package!
There was no complimentary water in the room or any WELCOME treat!
The room was very compact for what was described as Superior Balcony sea view Stateroom. But at least the cases fit under the bed out of the way.
So sadly, first impressions were not as great as expected.
There was no pen and paper in the room or postcards or binoculars (which I know you get on P&O)
Would have been nice to be served nibbles when you order a drink.
All these little touches matter.
They tried to charge us for things we didn't have ie a can of Sprite out the mini bar!
The TV was great but poor choice of channels and no radio stations.
On the Plus side – the food choice was good and the entertainment excellent. Staff on the whole friendly and helpful.