February 2016 - 4 Night Western Caribbean (Miami Roundtrip) Cruise on Carnival Fantasy
First Time Cruiser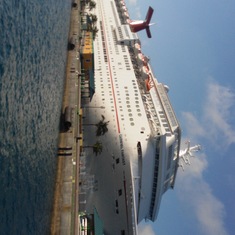 We were cruising for the first time. We took Carnival Fantasy seeing that it was my birthday week and also took a 4 day cruise to try out and see if we would like the cruising. Up on arrival at the cruise port we were dissapointed due that the cruise had changed our itinerary without any prior notification. Took us to "Bahamas" as it was said on board. And also that the cruise was about 4-5 hours late at the port due to a mechanical issue on the ship.
There was no food at the port and water and snacks kept running out. Carnival offered a complimentary bus drive to Bay side, to have dinner on your own cost. When we took the bus, the driver told us that he was not inform if he has to come and pick us up back and neither at what time. So we decided to go back to the port even though we haven't had anything to eat prior to our flight back home.
Finally the ship arrived about 7pm we boarded around 9:20PM, boarding was chaotic. Finally we were on board food was served, we ate and went straight to bed.
At the ports there were really nothing to do, Free port was like a industrial park. We did not like it and Nassau was just OK. Nothing special.
Food on board was good. Good desserts and also Cocktails.
Entertainment staff could have done more to have enlightening this trip more.
Overall it was not a bad experience only cons are the mechanical issues of the ship. Would try carnival one more time. I know they can do better.