September 2013 - Freedom of the Seas to Caribbean - Western
Stick to the Basic Cruise & Avoid Extras - You Will Be Much Happier and Save Money!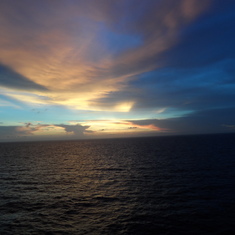 As former travel agency owners, we have sailed on just about every cruise line available. This was our 3rd cruise on the Freedom, in the last 2 years. Overall general expereince was acceptable. However, we were seriously disappointed in specific areas of add-on tours and speciality services:
1) From past experience we ignored the line's recommended boarding time of 1:30 pm, and boarded as early as possible to avoid waiting in line for 2 - 3 hours in the hot 95 degree FL sunshine. We arrived at 10:45 am and boarded the ship in less than 20 minutes; enjoyed the buffet on Deck 11, and then went to the jr suite at 1pm when cabins opened.
2) Our Bon Voyage package was NOT waiting as preordered, more than 2 months previously. The almost $50 pkg of wine, fruit, crackers and cheese FINALLY arrived AFTER 5:30 pm. More than 1 hour AFTER departure and 15 minutes before dinner, and ONLY because a half dozen phone calls were made. We ended up brigning the wine home with us because we had already purchased a wine pkg for dinner.
2) The $49 pp + gratuity on-board, "Mystery Dinner Theater" is the biggest over charge of money, rip-off, and time waster we have ever experienced in the 13 years we have been cruising! DO NOT bother!!! Passengers are crammed into the specialty Portofino restaurant - which we have eaten in before and thorougly enjoyed - where you will be bored to tears with amaturish acting, and crammed into the small intimate restaurant beyond capacity. Tables are set up in long rows, where you squeeze into the chairs jammed in together, like an over attended church pot luck special! The tables were so crammed together in long aisles, so much so, that the server could not fit in between the passengers to serve them, without hitting them in the back of their head with her ample hips. Normal cost is $20 pp. This is seriosly NOT WORTH the money and experience. Save your money for something else. Also, the food was not Italiian.
3) The Tequilla Tasting Tour, in MX, was NOT worth the money and there is NO TIME to enjoy the water park. The tour should have been free, like a wine tasting, because the entire point of the tour is for the "tour guide" to sell the expensive $150 per bottle Tequilla at the end of the demonstration.
4) The 4 hour kayak white water rafting tour in Jamaica, is not only not a real kayak experience, there is less than 20 minutes actually spent on the water. The remaining 3 hours and 40 minutes is spent driving around the area in a van, stopping at trinkets shops the tour guide probably gets a cut on.
5) Crusies.com promised a free meal at the Johnny Rockets speciality restaurant. Royal Caribbean would not honor this free meal. The couple we traveled with was allowed to use their free meal certificate; but, Royal Carib would not honor ours. Also, FYI ... there is a $4.95 per person service fee + gratutity, on the so-called FREE meal, if it is honored.
6)Overall expereince, discounting the extras, was typically enjoyable, on Freedom of the Seas. Ship is clean and well maintianed. Fewer activities. Shows were the same. Food was wonderful and dining room service was exceptional. We were able to reaquaint with staffers we've met on previous cruises. Below is a photo taken from our balcony, leaving Mexico.